I'm currently reading Michael Palin's diaries from 1969 to 1979, though that's not what I want to talk about. I bring this up merely to point out that Palin's book is rather large, as you might imagine a decade's worth of diary dispatches would be. Thus, this telephone directory-sized book makes for a poor traveling companion, no matter how compelling Palin's dispatches from the set of Jabberwocky or how faithfully he retells that hurtful thing Eric Idle once said about Terry Jones.
So I've been on the road the past couple of weeks -- Escondido last weekend, and Kansas City this one. (Official motto: Come for our fountains and barbecue; stay for our debilitating humidity.) Thus, rather than carry a separate suitcase just to haul around Michael Palin's book, I grabbed a paperback off the shelf to pass the time on the plane -- The Mustache Gang. Written by Ron Bergman, it's still the definitive contemporary account of the A's first few years in Oakland, even though it was published following the 1972 season before the book had yet to be closed on the Swingin' A's era.
But again, that's not what I was planning on talking about.
My copy of The Mustache Gang is actually Ken's old copy of the book. About a year ago, Mr. Arneson was in the process of paring down his library and was kind enough to let me root through his belongings, pick out anything that pleased me, and dismiss the rest with affected disdain. And so that's why I have a dog-eared copy of The Mustache Gang as well as an impressive collection of tomes about Swedish folklore.
Which brings us, at last to the point: When I cracked open The Mustache Gang, I found this slip of paper tucked into the inside cover.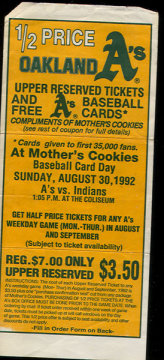 As you can see, it's a coupon for a 1992 A's game against Cleveland. For the princely sum of $3.50 -- half off the $7 face value of the ticket -- you can grab yourself one seat in the Coliseum's still-untarped upper deck. Mother's Cookies will even throw in a pack of A's trading cards at no addition expense.
I don't want to turn this into one of those In-My-Day-Quarters-Cost-A-Nickel rants, but $7 seats might be enough to get even me to darken the Coliseum's door with greater frequency. Even if I do have to tie an onion to my belt, what on account of it being the fashion at the time.
Say... you don't suppose the current A's regime might honor that old coupon, do you? I mean, I realize it expired 16 years ago and all, but it's still in excellent shape, even if I have been using it as a bookmark to gauge my progress through Mustache Gang. If nothing else, it would be an wonderful gesture on the team's part to sell me a $3.50 seat, no questions asked. I'll even drop the expectation of the pack of trading cards, as I imagine few remain from the 1992 promotion. I won't even insist that they remove a section of tarp so that I can claim my upper reserved seat as promised -- anything in the second deck will do.
Say, speaking of promotions, note how many fans walked away that day with a free pack of trading cards -- 35,000, or about 93 percent of the people who showed up that day based on the attendance figure listed in the box score. That's how you do a giveaway promotion -- not handing out things to the first eight dozen fans who show up at a gate you've randomly determined by pulling letters out of a Wells Fargo replica A's hat. Learn from your elders, A's promotions department. Stop cheaping out on promotions, and maybe people might want to attend a game at your ballpark every once in a while.
Don't know if you clicked on the Retrosheet link to the boxscore from that August 30, 1992 game, but it was a pretty nondescript affair. Down 2-0 at the get go, the A's plated runners in the second, third, fourth, and fifth innings to build a lead they would never relinquish. Your final score: Oakland 7, Cleveland 5 with Ron Darling picking up his 12th win of the year, and Rick Honeycutt nailing down the save.
No, the more interesting game would be what happened the next day when the Baltimore Orioles came to town. Let's pick up the action in this Mike Mussina-Kelly Downs pitching showdown in the bottom of the first:
R. Henderson flied to left
Browne walked
BLANKENSHIP BATTED FOR CANSECO
Blankenship flied to left;
Baines struck out
0 R, 0 H, 0 E, 1 LOB. Orioles 0, Athletics 0.
Yup, that was the game when Jose Canseco got traded to Texas for Ruben Sierra, Jeff Russell, Bobby Witt, and that ever popular by-product of Athletics trades over the years, cash. The deal was completed just in time for Canseco to be lifted from the game as he stood in the on-deck circle. I would tell you the reaction of the Coliseum crowd -- puzzlement, I suppose, until word of the deal leaked out -- but I wasn't there. I can tell you that, among the school chums over at my house that night, the Canseco trade really took the air out of the British Bulldog's triumph over Brett "The Hitman" Hart in the main event of the SummerSlam pay-per-view.
Yeah, I spent the night watching wrestling. And now I read books. Go figure how that worked out.