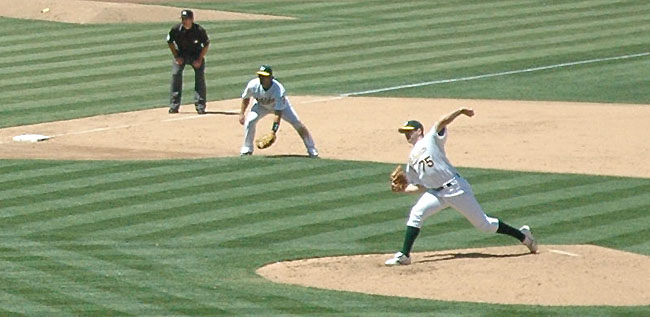 I'm not a Giants hater like a lot of A's fans. I'll never leave my heart in AT&T Park, but if the Giants have an interesting team, I'll watch and root for them. If not, I'll ignore them.
The past several years, I've been doing a lot of ignoring. Watching a bunch of has-been and never-was old farts play .500 ball doesn't turn me on. Nor does watching Barry Bonds take four pitches out of the strike zone over and over again.
In recent years, the Giants have had only two players I've enjoyed watching--Jason Schmidt and Omar Vizquel. Oh man, I could sit and watch Omar Vizquel play shortstop for hours on end. If we judged players solely by their artistry instead of their statisticry, Omar Vizquel would be the first guy voted in the Hall of Fame. He is lovely to watch.
So I'm actually pretty happy that Barry Zito signed with San Francisco. I love watching Zito pitch, and I'm happy that Giants games have immediately become a little more watchable every five days. Of course, Zito is replacing Schmidt, another player I like, so it's only a minor improvement on the watchability scale. Ah, if only the Giants had extended Schmidt instead of signing Matt Morris...
* * *
Of course, the pundits all agree that the contract is too big, for too many years. But is it? Is there actually a plan here? There are a few points in the Giants defense:

How much is too much? We have absolutely no idea how much money the Giants have to spend.
If you're going to give any pitcher in the world a seven-year contract in hopes he stays healthy all seven years, Barry "Never Missed A Start" Zito is probably the guy you'd want to give it to.
This gives the Giants a solid young pitching staff for years to come
.

This actually makes the Giants 2008 starting rotation look quite a bit like 2006 Oakland's. You've got:

Zito
The star young flamethrower (Cain/Harden)
Another hard thrower (Lincecum/Haren)
A crafty young inning eater (Lowry/Blanton)
A crafty old inning eater (Morris/Loaiza)
Given that the Giants need to totally rebuild their team over the next few years, and have pretty much an empty farm system, what better way than to start by setting up a young, solid starting rotation? You can build a bullpen out of scrap, and probably find decent hitters under rocks, but good, young starting pitchers are really hard to find.
Now if Brian Sabean can take these old farts currently in his everyday lineup, and trade them in July for younger parts--lather, rinse, repeat--I'll really be impressed.
* * *
I know the counterarguments. Zito is not an ace. He's good, not great, and therefore shouldn't get ace money. The money is better spent on better players than Zito.
I agree with that conclusion about Zito: he's not an ace. He's good, not great. However, I disagree with nearly every argument I've heard, including many from writers I respect, supporting that conclusion. I'll get to that in my next (non-photo-outtake) blog entry. Part 2 here.