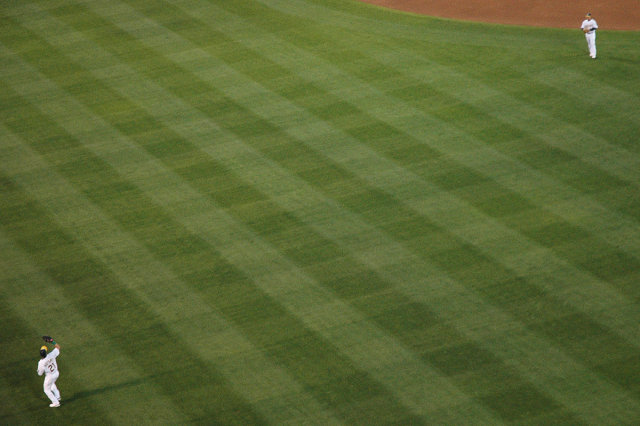 Here we have a photograph of Mark Kotsay, who was just traded for two decent prospects, catching a fly ball while Mark Ellis, who neither has been traded nor is rumored to be anytime soon, looks on. Something is rotten in the state of Denmark.
Danes may have been pretty miserable back in Hamlet's day, but today, they are the happiest people in the industrialized world. Why? It's not because they have the best standard of living. It's because they have the lowest expectations.
My giddiness that there still existed a GM desperate enough to both take on damaged goods like Mark Kotsay and give good prospects in return is beginning to wane. And now, as my happiness levels return to normal, I'm beginning to feel like the Mark Kotsay trade is a bad thing for my happiness.
Not because the trade was a bad trade: it was a very good trade for the A's. My problem with it is that now it alters my expectations.
Mark Kotsay had good trade value basically because used to be an excellent defensive player who used to provide average offense, and somebody hoped he might be able to do that again. That was worth two decent prospects.
Meanwhile, here's Mark Ellis. Mark Ellis IS an excellent defensive player (in fact, he's quite possibly the best defensive player in baseball), who DOES provide average offense, and WILL be able to do that again. So how much should that fetch in return?
Apparently, nothing. There are ZERO trade rumors involving Mark Ellis out there--none. Listen, folks, I'm beginning to get rather upset about this.
Mark Ellis, how do I love thee? Let me count the ways.
I love Mark Ellis because he's the most reliable baseball player I've ever seen. He never, ever, ever makes a mental mistake. He plays basically flawless baseball, day in, day out. He might not be the fastest, strongest, or flashiest player out there, but he's good enough of an athlete that combined with his mental perfection on the field, he's a very valuable player.
According to Chris Dial's defensive calculations, Mark Ellis saved more runs on defense than any other player in baseball: 24 runs over average. And if you don't want to trust just one defensive statistic to give him the AL Most Valuable Defender award, you can take the average of the various stats, as Lee Panas over at Detroit Tiger Tales has done, and find that by nearly every way you can measure, Mark Ellis was the best defensive second baseman in the American League, saving 19 runs over average. On offense, Ellis had a VORP of 24 runs.
If we add those together (it's a bit of apples and oranges, but they're the fruits at hand, so bear with me) you get a 2007 total of +43 runs. Compare this to, say, Derek Jeter, whose VORP was 53, but defensively was a horrible -27, you get a total of +26.
Now I don't really believe that Mark Ellis is a better talent than Derek Jeter. If Jeter was playing 2B and Ellis was playing SS, their defensive numbers would probably be much closer. But here's the annoying thing:
If the New York Yankees announced that they were hoping to trade Derek Jeter this offseason, ESPN would be providing us updates every hour; Pedro Gomez would be parked outside Jeter's home hoping to get the latest scoop, Peter Gammons and Buster Olney would spend every waking hour calling every GM and assistant GM to see if they had any news about where Jeter might be going, and MLBTradeRumors.com would be the most visited site on the Internet until the trade actually went down.
Mark Ellis provided 17 more runs of value to his team, is three years younger, and cost $17 million less than Derek Jeter, is everything the just-traded Mark Kotsay is not, is quite clearly available to be had in the right trade and what do we hear?
Silence.
Meanwhile, Seattle is apparently about to trade 18-24 years of future players for two years of Eric Bedard, and after that goes down, they'd still be playing Jose Lopez at second base, who had a defensive value of +6, and an offensive value of -9. They could improve their team by about five wins by upgrading from Lopez to Ellis, and the only rumored interest we hear from Seattle is that they want to know the price of Joe Blanton. Good luck with that.
I'm sure Billy Beane appreciates the value of Mark Ellis more than anyone, and since Ellis might end up a Type A free agent, perhaps the best course of action is to keep Ellis. If Ellis leaves, the A's get two draft picks, and if he accepts arbitration, fine--he probably provides more value than he'd actually win in arbitration anyway. Defense ain't where the dollars are.
But my point isn't really that Mark Ellis is better than Derek Jeter, or that the A's should trade him, or that other teams should give up their farm systems to get him. I'm perfectly happy to keep him around. But now that I know that damaged goods like Mark Kotsay has an appreciable value around the league, that makes my expectations for Mark Ellis shoot up to the moon. The fact that Ellis still gets less respect than Rodney Dangerfield is as rotten as the corpse of Polonius decaying beneath the stairs.