My family vacation to San Diego coincided with a Padres road trip, so we missed Petco Park. But no matter. We went out Saturday evening and checked out some Surf Dawgs, instead.
The San Diego Surf Dawgs are one of eight teams in the Golden Baseball League, a brand new independent league centered on the west coast. The league began play on Thursday, so the game we attended on Saturday was the third game ever for the Surf Dawgs and their opponents, the Long Beach Armada. The Surf Dawgs and their main attraction, Rickey Henderson (more about him later), play at Tony Gwynn Stadium on the campus of San Diego State University.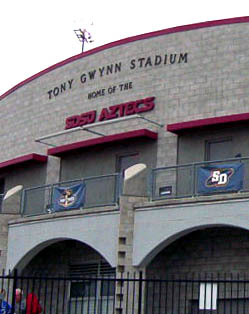 Home of the Surf Dawgs


The ballpark seats about 3,000 people, all on the infield. It was about half-full on Saturday evening, and from listening to the people in the crowd, it seemed like half of the people in the stands were related to somebody on the field. "The pitcher is my cousin." "My dad's the bullpen catcher." "C'mon son!"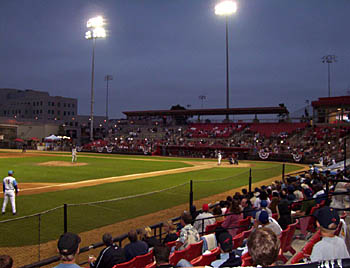 Inside Tony Gwynn Stadium


I doubt catering to the relatives of ballplayers is a sustainable business model, but if the league fails, it won't be for a lack of marketing. In fact, I think they pulled out the table of contents in the Baseball Marketing 101 textbook and used it as a checklist.
Checklist item #1: give something away as people enter the stadium. We each got a T-shirt commemorating the inaugural weekend of Golden League play. The gift was a good way to get on our good side right away.
Checklist item #2: give some more things away after that. Just minutes after we settled down in our seats, a Surf Dawg employee came by and told us that our row had been selected for an upgrade to a luxury box. Free catered food!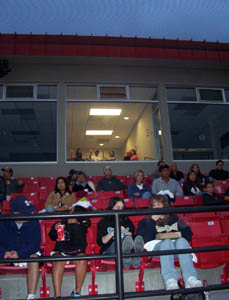 Our box


In an interview with Christian Ruzich, Dave Kaval, a founder of the Golden League, explained their marketing strategy:

We're targeting families. We're very, very focused on the typical four-person family: wife, husband, the two kids. We're going to cater to families with the types of promotions we do — from having the kids run the bases between innings to having a kid zone in all of our parks, with everything from speed pitch to one of those big Scooby-Doo blow up things for the kids to jump around in. Just making sure that the lowest common denominator is entertaining the children.

He wasn't kidding about the kids. They had a kid zone with all sorts of games. They had both a Surf Dawg mascot (named Southpaw) and a clown who made beaut animals. My kids got their faces painted. And between every half-inning, there was some entertainment happening on the field, from a frisbee-catching dog to a burrito-catching contest.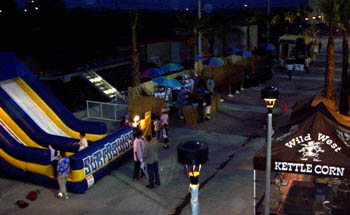 Fun Zone


The marketing plan worked to perfection on my wife and kids. Everyone on the staff was friendly and approachable. They seemed to genuinely care to make sure we were having fun. My kids had a great time, and were never bored at all. My wife absolutely loved it. We have a trip planned to L.A. later this year, and as soon as we got home, she checked out the schedules online to see if we could make another Golden League game. In fact, I'd bet if there were a Golden League team in the Bay Area next year, she'd want to dump our A's season tickets and go there instead. (Memo to the marketing departments of MLB and the Oakland A's: we're people, not ATMs.)
I, on the other hand, am more of a hard-core baseball fan, and I'm not going to fall for any marketing magic unless the product on the field is worth watching. The defense was not crisp, and none of the pitchers I saw had great stuff, but at least they threw a lot of strikes and made the batters put the ball in play, which made for an entertaining home team victory, if not an impressive one.
And yet, even for me, the night was magical.
When the game was over, I felt like I had stepped out of a scene in Field of Dreams. Ray Kinsella had come into my office and asked me if I could have one wish, what it would be? And I responded, "Just once, I'd like to see Rickey Henderson young again, driving the opposing team absolutely insane, working the count, taking walks, hitting homers, and running wild on the bases. That's my wish, Ray Kinsella. That's my wish."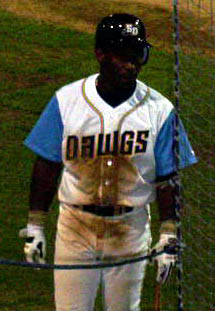 And so it was.


Rickey's first two plate appearances were identical.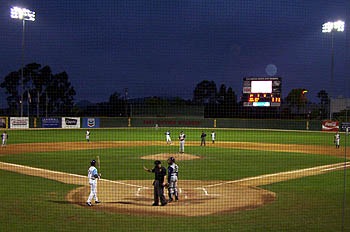 Both times, Rickey stepped up to the plate...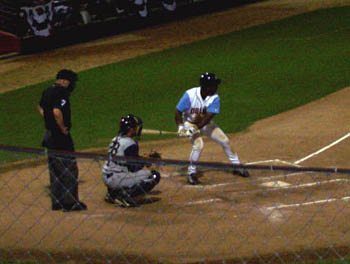 ...worked the count to 3-1...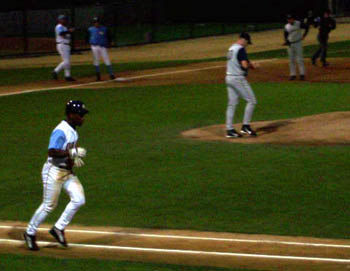 ...then drew a walk.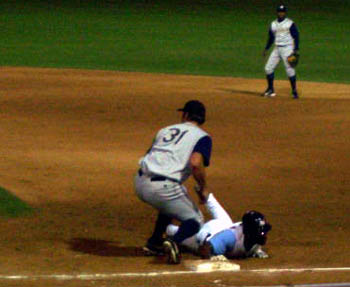 The pitcher threw over to first several times. Bad idea, actually.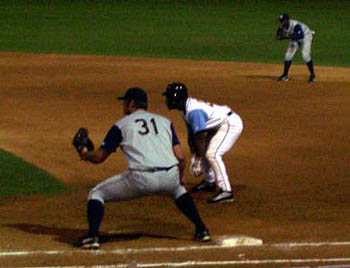 The throws over helped Rickey study his moves to first and to the plate.


As soon as he was sure he had the pitcher's moves down, Rickey stole second base. He was stranded at second in the first inning, but in the third inning, Rickey scored as part of a five-run rally. I think Rickey was messing up the pitcher's concentration.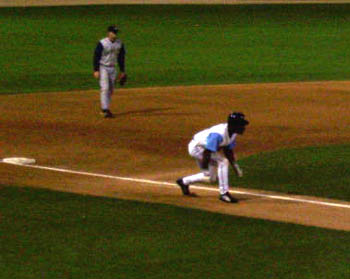 Rickey fakes a steal of home.


Next time Rickey was up, the pitcher fell behind 1-0, and decided he didn't want to walk Rickey again, so he threw him a fastball down the middle. It was just like old times: the pitcher is damned if he does, and damned if he doesn't. Rickey deposited the generous pitch over the fence in straightaway left field.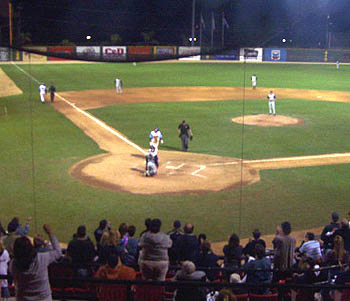 It was the first home run in Surf Dawg history.


Rickey was out on a sharp grounder to third his next time up. Then in the eighth inning, he walked again against a new reliever. The 2-1 pitch was pretty close to Rickey's head. Rickey seemed annoyed, so I definitely thought he would try to steal again.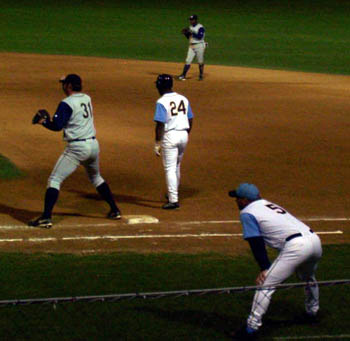 Rickey sized up his move...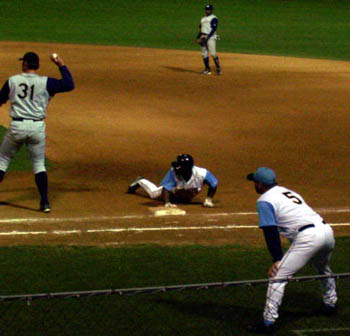 ...and the pitcher promptly balked.


Long Beach manager Darrell Evans ran out of the dugout and argued with the umpire for about five minutes. When play resumed, Rickey quickly tried to steal third.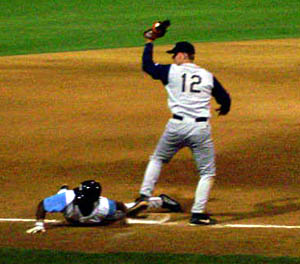 He was called out.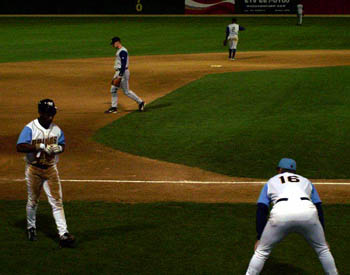 Rickey didn't argue, he just shook his head and walked off the field.


Reality had set in. Rickey was just a step too slow to beat that short throw to third. He was replaced for defense (his age showed most in the field) in the ninth. Was that slow walk to the dugout the last time I'll ever see Rickey Henderson on a baseball field?
As Rickey, caught stealing, walked off the field, I thought about Archie Graham.
He was once a kid, living his dream on a baseball field, full of potential, capable of anything. But eventually, real life forced him across that foul line. Now, he was merely a respected old man, toting a satchel full of memories.