I'll bet there aren't too many people who have made a journey from the geysers of Iceland to Fenway Park in Boston. I went from 50 degrees and a cold rain in Reykjavik one day to a hot and humid 90 degrees in Boston the next.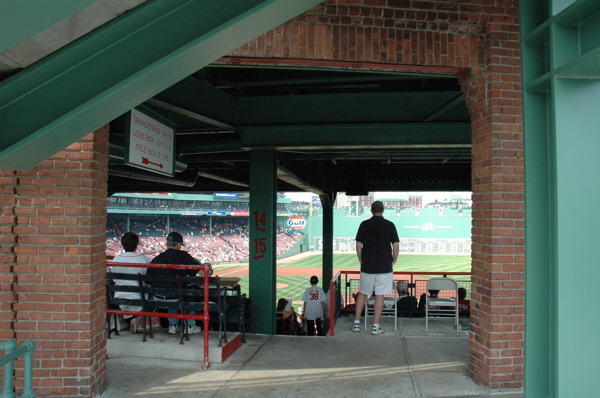 I picked a good day to make my first visit to Fenway Park. The A's won 8-1, behind some excellent pitching by Joe Blanton, some nice defense by Jay Payton and Mark Kotsay, some clutch hitting, and a boneheaded baserunning mistake by Manny Ramirez. The A's were ahead 5-1 in the sixth, when the Red Sox got a little rally going. Down by four runs, Ramirez tried to go first to third on a single to center by Trot Nixon. Mark Kotsay is not a guy you want to challenge in that situation, and he nailed Ramirez at third, and killed the rally.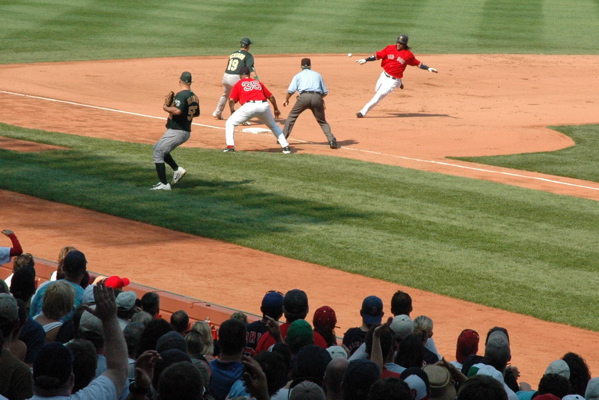 With Joe Blanton was nailing the outside corner with his fastball all day long, and the umpire was consistently calling it a strike, that rally-killing baserunning mistake sucked all the drama out of the game. Which was fine with me, as it let me soak in the atmosphere of Fenway without biting my nails about the game.
I had heard a lot about the ballpark, of course, so there weren't too many surprises. It was classically beautiful, as I expected. I suppose the biggest surprise to me was just how wholesome the atmosphere was. I suppose that might have been a function of the good seats I had, but I was expecting worse. The Red Sox fans who show up at the Oakland Coliseum are 1,000 times more obnoxious than the ones I encountered in Boston. The people were friendly and optimistic, even as their team was losing. There were lots of families with kids, one generation passing their love of baseball and the Red Sox on to the next. It was great to see.
If there was any negative about the park, it was the PA system. The sound quality of the speakers was horrible, and they were way, way too loud. Between innings, it was utterly impossible to hold a conversation with the person right next to you because of the music being blasted in your ears. After nine innings of that sound system, I left the park with a pounding headache.
Still, I'd happily do this again. It was a great time. Next time, though, I'll bring earplugs.
I didn't get a lot of good pictures from the game, because half my view of the action was behind the screen, but I put up a a slideshow of my favorite pictures anyway.