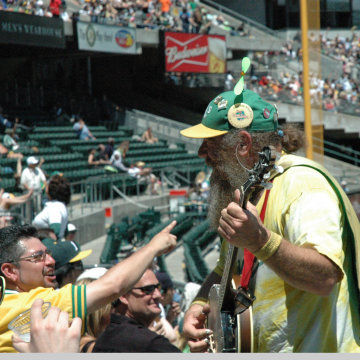 Having already traded away Dan Haren and Nick Swisher this offseason, the Oakland Athletics continued their rebuilding program today, sending Banjo Man, a 23-year veteran of the green and gold, to the Minnesota Twins in exchange for three promising young musicians.
In explaining the deal, A's general manager Billy Beane repeated the rationale that he cited when trading Haren and Swisher: since the Minor League system was depleted and the ballclub appeared to have little chance of contending in the near future, Oakland would need to build a new foundation by trading star performers for promising youngsters.
Beane said that parting with the jovial Banjo Man was "very difficult" and insisted that the move was not about dumping an aging member of the team. "This was about trying to acquire as much talent in bulk as we can," Beane said. "It's no fun doing this, from an emotional standpoint."
In exchange for the 57-year-old Banjo Man, the A's received three young musical prodigies, all under the age of 23: Accordion Kid, Bagepipe Babe, and Tuba Dude.
Accordion Kid, 22, is the Twins' #2 prodigy according to American Fanstand, a leading authority on ballpark music. Kid spent the year performing for the AAA Rochester Red Wings, where he was named the International League's Most Outstanding Musical Prospect. He is expected to be ready for to make the jump to the major leagues in 2008.
Bagpipe Babe, 19, was ranked #3 by American Fanstand, and has perhaps a higher ceiling than Accordion Kid, but is further away from the majors. She showed lots of promise with the low-A Beloit Snappers, but scouts say she lets her bags sag from time to time, and needs to be more consistently firm in her presentation to make an impact at the major league level.
Tuba Dude, 21, did not make Fanstand's Top 10 list. He is a bulky fellow who scouts say is unlikely to be a star, but could someday play a solid supporting role in the right circumstances.
A's owner Lew Wolff praised Beane's initiative. "I will certainly miss Banjo Man," Wolff said. "But we didn't want to just cross our fingers and hope we'd be better this year. Billy's building for the future but hasn't torn the team apart. I honestly think we'll be better. We'll certainly be faster and younger."
Beane and Wolff indicated that more trades were in the works, but would not comment on any specific players. Below are some other members of the A's organization that Beane is thought to be shopping: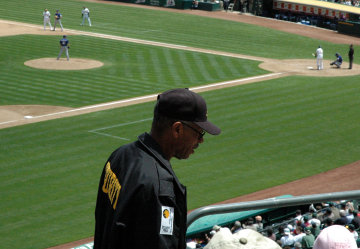 Alton the Security Guard
Like Banjo Man, Alton the Security Guard has seemingly been around forever. This reporter remembers fondly the Bash Brothers days when Alton would take his regular post in the left-center bleachers, between the Hendersons. The Mount Davis remodel in '94 robbed Alton of his beloved spot, and he has served more of a utility role since then. His peak years are behind him, but he should be able to bring in at least one promising agent from an organization that is looking for his kind of flexible experience.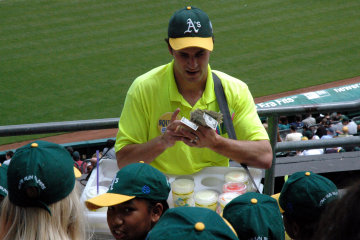 The Squishy Vendor
It is not generally known that Billy Beane had Paul DePodesta cloned shortly before DePodesta left the A's to take over the General Manager's role in Los Angeles. The copy turned out to be imperfect, but unfortunately the flaws weren't discovered until after the A's had already traded Ted Lilly for Bobby Kielty and had made the disastrous free agent signings of Mark Redman and Arthur Rhodes. The original DePodesta is in San Diego now. The clone is still in Oakland, but has been reassigned to squishy duty. He won't bring much more than a young soda vendor in return, but the A's would gladly take it.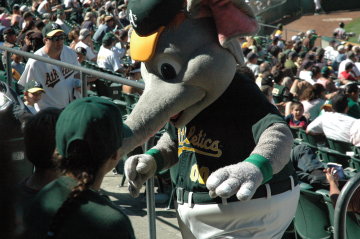 Stomper
Stomper had a career year in 2006, and started showing some evidence of decline in 2007. His dance routines were not as crisp, his jokes tended to flatten out, and combined with a bad year from the team in general, Stomper simply did not produce nearly as much mirth as he had in previous seasons. He's still a valuable mascot, and should be able to bring a top mascot prospect in return. Or perhaps, if Beane prefers quantity over quality, a combination of a B-level mascot and a good, hustling batboy.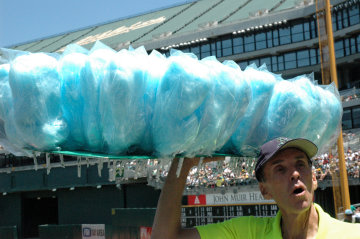 Cotton Candy Man
Cotton Candy Man can still bring it. He's no superstar, but he's a solid veteran who produces consistent numbers year in and year out. Sometimes he's blue, sometimes he's green, and sometimes he's pink, but the statistical fluctuations all even out in the end. Cotton Candy Man is as reliable an asset as there is in all of baseball, and you can be sure Billy Beane will find a trade partner who will recognize the value of that kind of consistency. Cotton Candy Man should bring a sweet package in a trade.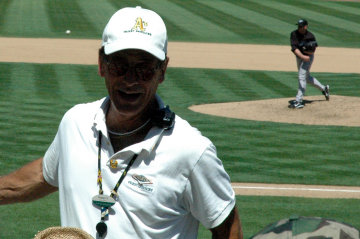 Rod
New York has A-Rod. Detroit has I-Rod. Anaheim has K-Rod. But only Oakland has the original.
Rod. Just Rod.
Rod, who ushers MVP sections 114 and 115, is quite possibly the coolest human being on the face of the earth. The word "cool" was invented to describe Rod. Rod is so cool he makes Fonzie look like Henry Winkler in comparison. There is no other word besides "cool" that can adequately describe Rod. Rod is just a cool, cool cat.
What kind of return can Billy Beane get for the coolest guy on the planet? It will probably take a huge package of four, five, or even six prospects to pry Rod away from the A's. Billy Beane knows what a great asset he has in Rod, and he's not going to give him up cheaply, that's for sure.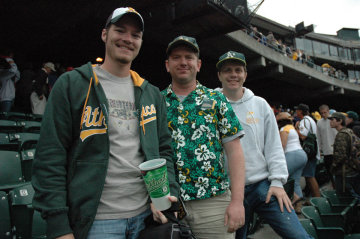 Catfish Stew
These guys are goners, no doubt. At this point, there's no good reason for Billy Beane to keep any of these old farts around. They can't even build up the mildest form of sarcasm or cynical rage over the dumping of the team's biggest stars. These guys are toast, and Billy Beane knows he will just have to hope he can find some dumb, old-school GM who still doesn't know how to recognize the life cycle of a blog, and get something--anything--in return. Expect these guys to be blogging about the Astros or some such team very, very soon.