Had an interesting experience at the ballpark today--it felt more like watching a game in Little League instead of Major League Baseball. Not because the play was bad, but because I happened to sit next to the aunt of Orioles' starting pitcher Jeremy Guthrie. That's her boy right here: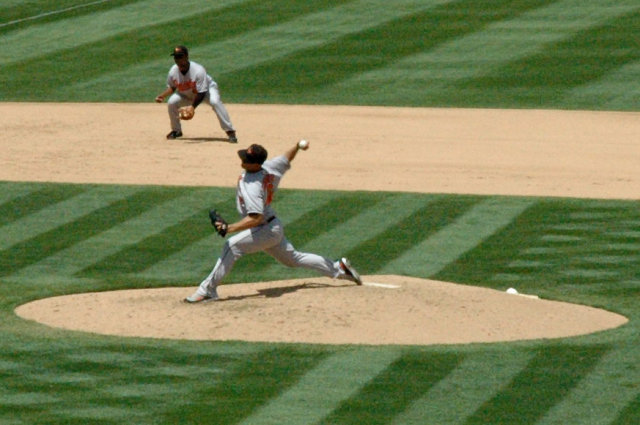 Guthrie's aunt was one of those kindly old ladies who loves you no matter what, and everything you do is great, because you're trying your best. Her cheering, complete with anachronistic shouts of "Yay!" and "Yahoo!" and "Hooray!", was so charmingly optimistic--"C'mon Jer, you can do it, I know you can!", I began to fall under her spell. After about three or four innings, I had somehow come to believe that the worst possible outcome of this game would not be a loss for either team, but that Jeremy Guthrie might somehow end up with his feelings hurt.
So when Kurt Suzuki blasted this two-run homer, I didn't really have the heart to cheer very much: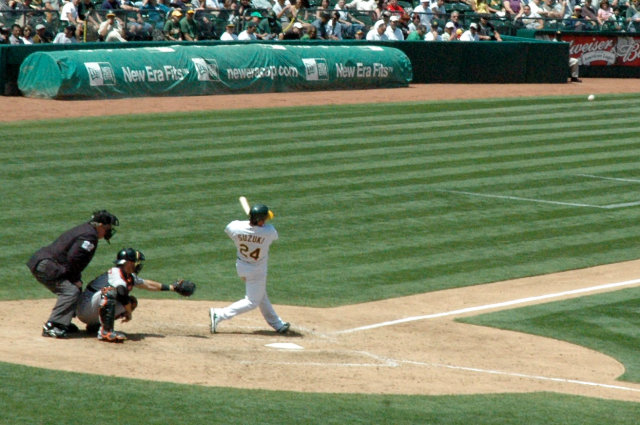 Poor Jer. He must have felt so bad. Guthrie was on the hook for the loss until Andrew Brown entered the game in the eighth inning, and proceeded to give up twenty-nine consecutive grounders in the hole between Daric Barton and Mark Ellis. I'm sure Andrew Brown felt bad about turning a two-run lead into a 5-4 deficit, and perhaps even worse when walking off the mound to a round of boos. Aunt Guthrie was appalled. "That's just terrible, booing a player like that. I'm sure he was doing his best."
Brown got off the hook for the loss in the bottom of the eighth, when the A's tied the score, thanks to a brilliant takeout slide by Jack Hannahan. Frank Thomas was pinch-hitting with the bases loaded and one out, and hit a slow grounder to short. Most batters would beat out the relay throw, but Thomas is so slow, there was a high risk of an inning-ending double play. But Hannahan just obliterated Brian Roberts, who had no chance at making a throw to first to double up Thomas. It reminded me of the collision between Randy Johnson's fastball and the dove. Roberts simply disappeared, so much so that I don't even have a photo of it. One of the best slides I've ever seen, and the game-tying run scored.
So the game went into extra innings, which is a happy result, because nobody can feel too bad about losing in extra innings, right? You both tried your best, and played well, and somebody had to get lucky and win. In this case, it was Mark Ellis who got lucky and won, with a home run that just barely glanced off the foul pole.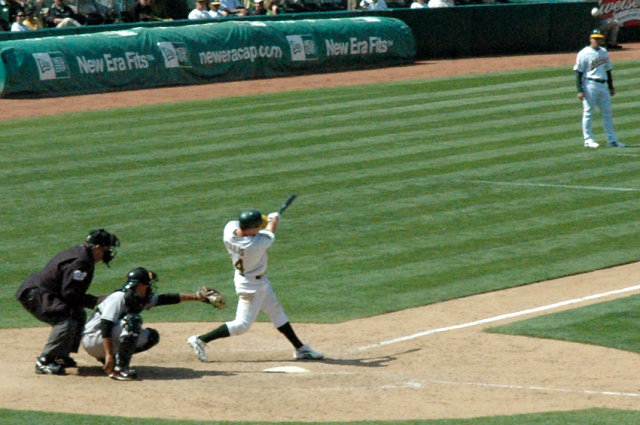 Yay! And now, the A's are once again tied for the best record in the American League. The fellows on this A's team are really good boys, they really are. Hooray for them! Yippee!