Apparently, doctoring photographs for use in news stories is all the rage these days, so I thought I'd dip my hand into the popular culture of the day and test the waters.
Here are some photographs I (presumably) took from Sunday's A's-Devil Rays contest in Oakland. See if you can tell which photos are real, and which ones are Photoshop.

Ceremonial First Pitch
95-year-old
Emil Mailho
, the second oldest living A's player, throws out the ceremonial first pitch from his wheelchair.
Photoshop. Emil Mailho is real, but with few cuts and pastes in the upper right corner, I made it appear that neither Mickey Hatcher nor Billy Hatcher had ever existed.

Warmup
The A's take the field.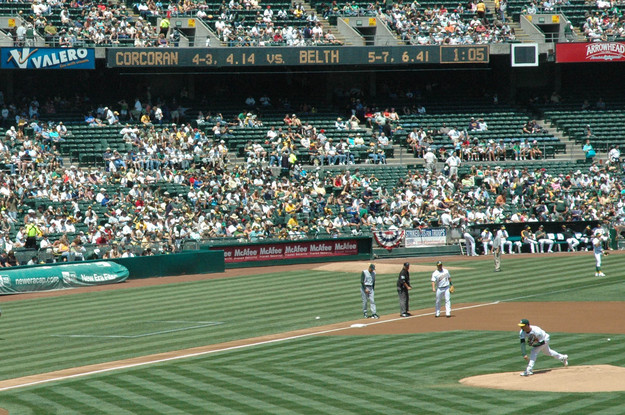 Photoshop. The part about
Corcoran
is real, but everybody knows that
Belth
has an ERA way better than 6.41.
Non-Ceremonial First Pitch
Esteban Loaiza starts the game off with a hard fastball to B.J. Upton.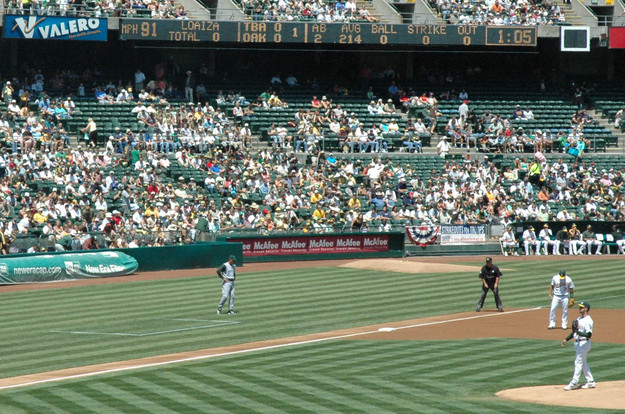 Real. When Loaiza's first pitch showed 91mph on the radar gun, my first thought was this:
!!!

And then my second thought was this:
???

Where had this velocity been all year? Later, Loaiza threw a pitch that measured 95mph on the stadium gun. What the heck? With his velocity suddenly returned from its AWOL status, Loaiza cruised through the game. After six innings, he had only thrown 58 pitches. He was at 90 pitches through eight.
As an aside to this, even though Loaiza had Upton befuddled most of the afternoon, striking him out three times, I kinda fell in love with Upton anyway. His swing is so quick and smooth, it's quite a lovely thing to behold. I think he has the most aesthetically pleasing swing I've seen in years.

Stolen Base
Milton Bradley steals second base.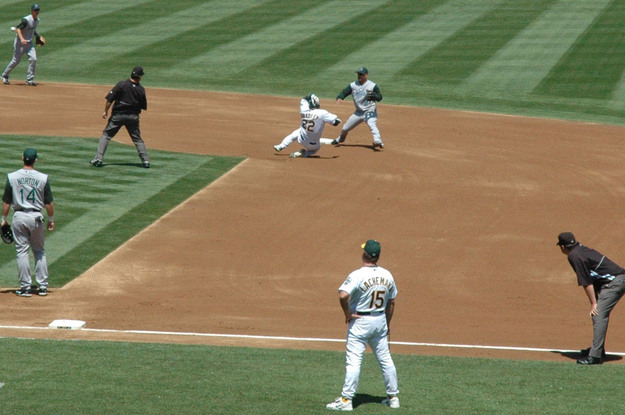 Real. Yes, the A's actually stole a base in this game.

Stolen Base 2
Jay Payton steals second base.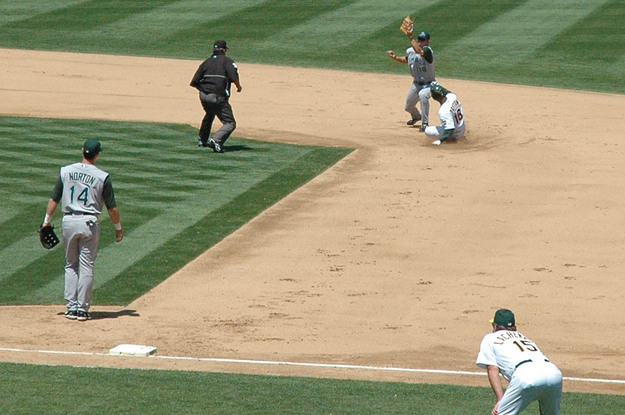 Real. Yes, the A's actually stole two bases in one game! I'm not making this up!

Chavez Connects
On this pitch, Eric Chavez launches a home run.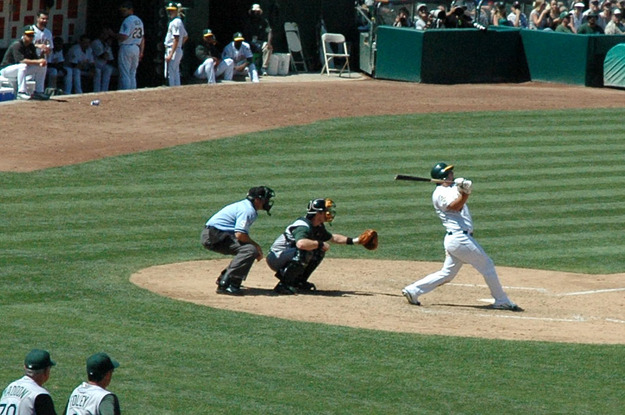 Real. It may seem hard to believe, since Chavez had only hit one home run since June, but he actually got all of one in this 7th inning drive. This was a monstrous towering blast, that went a mile high, taking forever to come down just beyond the right field fence. I don't think I've seen a ball go so hard, so high, and so far since Mark McGwire roamed the Coliseum.

Handshakes and High Fives
The A's hold on to win their shortest game of the year.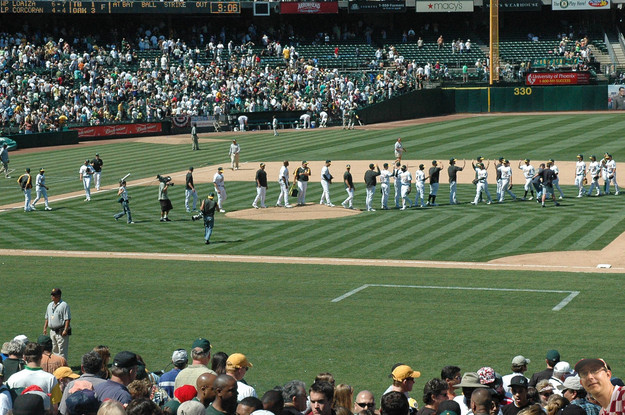 Photoshop. Yes, the game only lasted two hours and one minute. But
Bob Timmermann
and his checkered jersey were not actually in attendance.