I had plenty more important things to do, but when my brother-in-law called this afternoon and said he had seats he couldn't use right behind home plate, I thought, hmm...Gio's Oakland debut, Pennington's first game, could be interesting. OK, I'll go. Here's the wide angle view of the seats I had: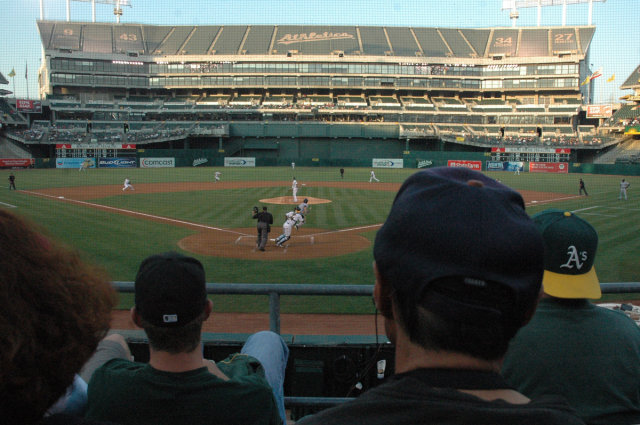 From this short distance, you get a much more realistic sense of the impressive speed of the game at the major league level. How any batter ever manages to discern ball from strike, and make any sort of contact at all off these pitchers throwing over 90mph is a minor miracle. And then to recognize the difference between that and a changeup before it's too late? It looks so much easier on TV than up close and personal. Also, foul balls should be renamed "Death Missiles". They're absolutely terrifying as they go whistling overhead or slam into the screen in front of you.
Gio Gonzalez is quite an athlete. The way he pounced off the mound to field a safety squeeze bunt and tag the runner off third base was very impressive. His fastball has both oomph and movement, and the break on his curve ball was often unbelievably sharp. There was plenty to be impressed about.
He does seem a little bit hyper out there, which I could imagine would work against him in some situations, when a cooler head would be helpful. Also, his repertoire doesn't seem to lend itself to inducing double plays. He's a fly-ball/strikeout pitcher, and he'll have a harder time working out of jams than a sinkerballer. He's not often going to get lucky by having the opposing team run itself out of a rally like the Rays did tonight. He has to escape jams by inducing popups and striking players out (which he also managed to do tonight), but you also have to imagine that given the nature of flyballs, he'll also give up his share of three-run homers. But all in all, I was more impressed in my first look at Gio Gonzalez than by my first look at Sean Gallagher.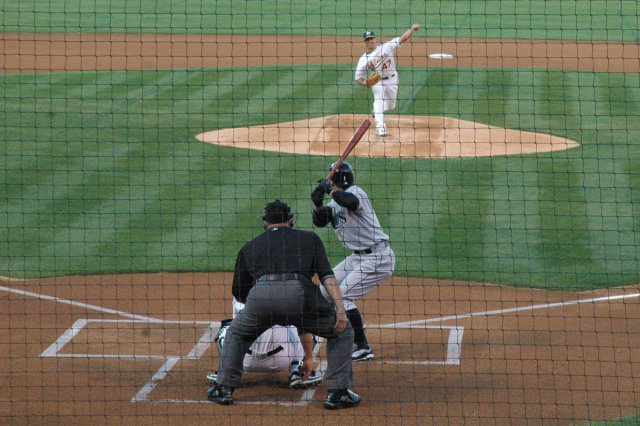 Meanwhile, Cliff Pennington made his major league debut, playing 3B. He got tested right away, as the first batter of the game hit an only-in-Oakland foul ball, and Pennington ran a long way and made a nice play to catch it. He later flubbed a potential double-play ball, but recovered it in time to get a force out at third base. So mixed reviews with the glove.
Pennington went hitless at the plate. The Rays must have had a scouting report on him that said "keep the ball down." Probably half the pitches he saw were below his knees, and he swung at most of them. He looked a bit overmatched until he yanked a rocket foul on one pitch that was left up. That's where sit up you go, "ah, there's the talent that got him here." But he never saw another pitch like that the rest of the night, and went down meekly thereafter. We'll see how quickly Pennington can adjust.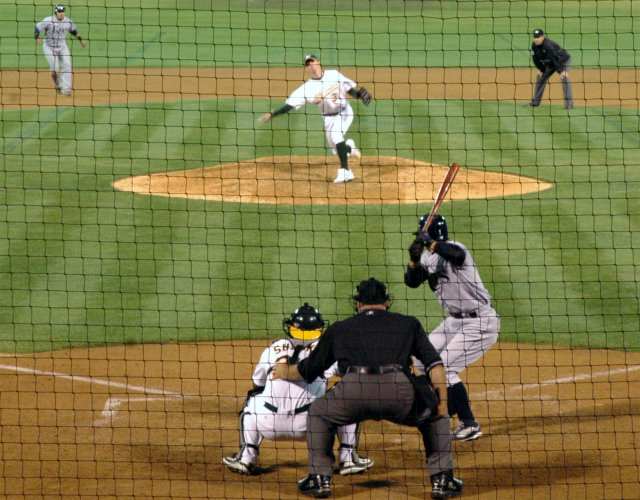 Throw in some nice relief work by Jerry Blevins and Joey Devine, plus yet another scoreless inning by Brad Ziegler, and it was a very pleasant evening. Seems like Bob Geren finally realized that Huston Street and Alan Embree are the A's worst bullpen pitchers right now, not their best, and by giving the setup and closer roles to the pitchers who are actually pitching the best, the A's were finally able to win the kind of tight ballgame they've been losing for the last five or six weeks. 2-1, A's win!