Huston Street made his major league debut on Wednesday in the A's 9-0 win over Baltimore. He pitched the eighth inning, giving up a walk and a single, but no runs.
His made his first out himself, jamming the batter and catching a little popup. His last out was a nice sequence which concluded with Sammy Sosa striking out on a nasty slider.
I got a good look at Huston Street last week in Tucson, and I returned home with some interesting pictures of Street's delivery taken from above the A's bullpen.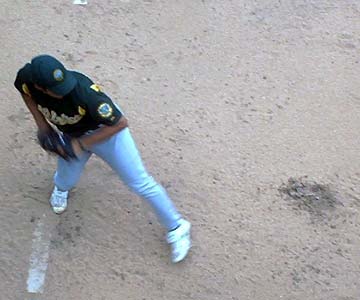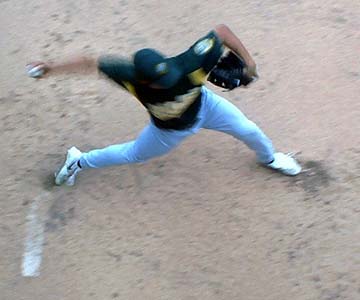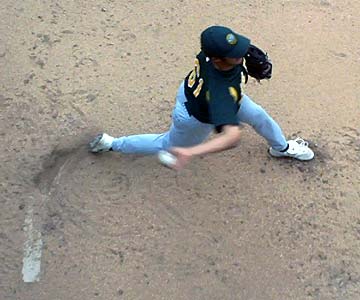 Here's what our own pitcher saver, Will Carroll had to say about Street's delivery from these shots:
Ken: I was wondering about the third picture, where it looks like he drags his back leg to the side, like he's trying to get as much towards first base as possible. I'd never seen that before. You can see the skid mark.

Will: YES! God, that's a great shot. It's something I do with all my pitchers. I've never seen one so pronounced, but that's GREAT. The longer the drag line, the closer he is releasing the ball to the plate. 1 foot = a perceived 3 mph.

He has a solid front leg. His glove and head are pretty close to ideal. Nasty external rotation.

I've talked to a lot of guys that have seen or even hit against him that say he's frighteningly consistent, but tips.

Street's fastball is only around 92, but perhaps the long drag line helps explain why so many people say his stuff seems so nasty.
If word got around that Street was tipping his pitches, it might explain his struggles toward the end of spring training. That problem should also be correctable.
I tried to look and see if Street's stride on the mound in the game differed from these bullpen photos at all, but it was hard to tell. I could see that he was setting up on the first base side of the rubber as in the photos, at least to right-handed batters. But ESPN2 had their ticker running along the bottom of the screen, and obscured the view of the mound, so I couldn't see much more than that.
No problem, though. I have a feeling there will be few more opportunities to follow Huston Street.