The A's have won six of seven games since Bobby Crosby returned from the DL, the only loss coming at the hands of one of the best pitchers in baseball right now, Roy Halladay. No shame in that.
I went to both weekend games. Saturday evening, I sat in the upper deck and watched Joe Blanton get his first career major league victory, and Huston Street get his second career save. It was a quick, well-played ballgame that was over in just 2:20.
Blanton pitched well, yielding only a pair of early solo homers in seven innings. Ted Lilly was on his game, too, inducing fly out after fly out. Knowing Lilly, I said to myself, "we'll just have to keep it close until we can get one of those fly balls to go over the fence."
The game almost got away from the A's in the top of the sixth, when with runners on first and second, no outs, and the Jays up 2-0, Vernon Wells hit a fly ball to Eric Byrnes in center field. Orlando Hudson tagged and headed to third, and I immediately shouted out for everyone in the vicinity to hear, "Throw it to second, Byrnes!" I figured the odds of Byrnes throwing out the speedy Hudson with his inaccurate noodle of an arm were quite slim, so it was better to keep the double play in order by throwing the ball to second base, keeping the runner at first. But Eric Byrnes is Eric Byrnes, and playing it safe is not in his vocabulary. To my utter amazement, he threw a bullet directly to Eric Chavez at third base, and Hudson was out.
After that, I had to endure about two innings of teasing about my outburst. When Byrnes hit a two-run homer to tie the game in the bottom of that inning, I heard someone shout, "Hit it to second, Byrnes!" But I still think I was right. If Byrnes makes that throw more than 25% of the time, he'd be lucky.
The A's won when Bobby Crosby, Dan Johnson, and Nick Swisher combined for a two-run 7th-inning rally, and Eric Chavez added a solo homer in the eighth. Huston Street got the final four outs on twelve pitches to finish the night off.
***
Sunday's game lasted only five minutes more than Saturday's game, but it felt like days. The game was over early, as the Blue Jays acted as if they had never encountered sunshine and blue skies before, flubbing numerous popups and fly balls. Add in a few home runs by Scutaro, Chavez and Hatteberg, and the A's had a 12-0 lead after three innings.
In the fourth, I started feeling drowsy and almost fell asleep. Although I think my eyes technically stayed open until the end, I don't really remember much after that. It's all fragments:
There were these giant colored disks rolling around. They were chasing me.
The word "Schoenwuss" lingered in the air.
Rich Harden got injured again.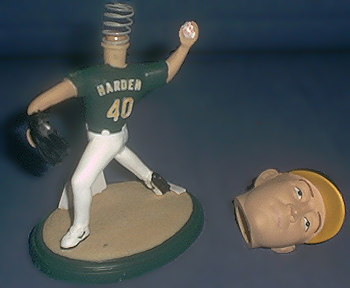 Will Carroll reports Harden may miss several more weeks with a severely swollen and severed head.
John Gibbons suggested giving Millie and Jimmy candlesticks as a wedding gift.
A bagel dog disappered under a large A's cap, and then suddenly reappeared.
Kiko Calero magically appeared on the mound, and then suddenly vanished.
The Stay-Puff man ate Mount Davis.
Sir, it's time to go now. The game is over. We are emptying the stadium.