They're partying in Sydney, like it's Boston 2004.
The Sydney Swans of the Australian Football League broke a 72-year championship drought yesterday, defeating the West Coast Eagles 58-54 at the Melbourne Cricket Ground. They say it was one of the best Grand Finals ever.
In 1999, I went to an Australian rules football game at the MCG, as they call their sport's most hallowed ground. It was awesome, a really entertaining sport. Here's a "footy" primer, if you're not familiar with the rules.
Footy fans are intense. The match I went to was just an ordinary weeknight regular season game, and there were almost 30,000 people in the stands. Each team has a fight song the fans all sing, and they wave flags and banners all through the match. Here's a picture from my visit: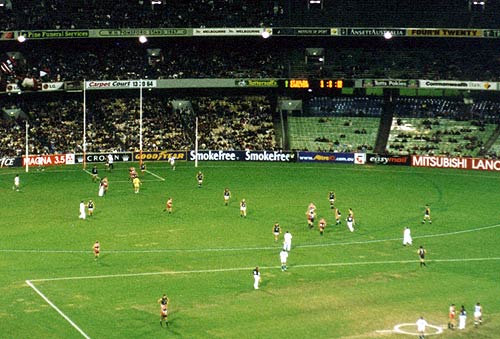 Saturday, the Swans had to hang on tooth and nail for their long-awaited victory. They were leading by just five with a minute left. (If you kick the ball between the middle goal posts, you get six points, so the Eagles trailed by only one score.)
The Eagles almost scored a game-winning goal, twice. Once, they got a one-pointer (which you get if the ball goes between the pair of posts on the side). And then...well, just watch the last minute of the final here.
Wow, that was an exciting finish! That's what the Red Sox victory should have been like last year. That four-game sweep was so anti-climactic. The Red Sox should have had to fight with everything they had to defeat their ghosts.
That's the proper way to break a curse! Although, hearing the Notre Dame fight song as they celebrated was kinda weird. Still, that's way better than watching Jimmy Fallon and Drew Barrymore running around on the field.
I suppose, though, that beggars can't be choosers. If the price for breaking Cal's 66-year Rose Bowl drought were having to watch Adam Duritz run around naked on the field, I'd probably pay it.
And I wonder, what's the price for winning an ALDS series?