I'm sure you remember what you were doing on September 11, 2001.
But do you remember what you were doing exactly one decade earlier? Here's what I was doing on September 11, 1991: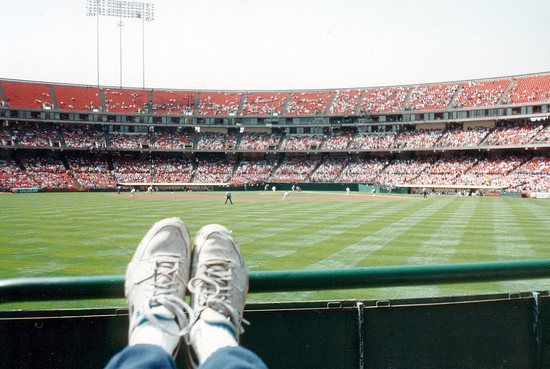 This happens to be a picture of Todd Van Poppel's first major league pitch, to Tim Raines. And of my shoes. And of some orange seats.
Man, I had almost forgotten about those orange seats. They are better left forgotten, I think.
Also best left forgotten is how excited I was that Van Poppel might be a huge star, especially after he struck out five of the first six batters he faced. Unfortunately, the second time through the order, the White Sox figured Van Poppel out. Carlton Fisk took Van Poppel deep, and well...that was the last time I had dreams about Todd Van Poppel.