I haven't posted anything in over a week. I have an explanation.
On Saturday, I bowled snowballs. Here. In the Bay Area.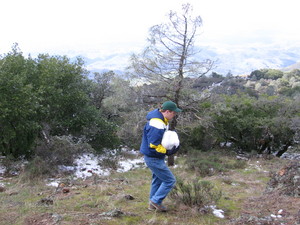 Today, I went ice skating. Again, here. In the Bay Area.
And as I write this, it's pouring outside. It's been raining all month. Rain rain rain. We're about to meet our monthly precipitation average for March, and March isn't half over yet.
It's clear what is happening. Without Bill King's voice, spring does not know that it's time to return. Winter just keeps going and going and going...
There are rumors that the A's have played some Cactus League games. I have no evidence that would lead me to believe such speculation. Not a single A's game has been on TV. I've only heard one game on radio, and I was kinda busy at the time, so I wasn't really listening. The 25-man roster is pretty much set, so there's nothing really compelling about following who's doing what in the Cactus League. I have seen Kiko Calero and Huston Street throw, but they weren't wearing A's uniforms. I'm loving the WBC on one hand, but on the other hand, it's just adding to the list of strange things this March.
All the usual signals of spring are missing. Maybe I need to pull out my Bill King bobblehead, and say a prayer.