Yesterday afternoon, in the outer reaches of the Oakland Coliseum's second deck, some ignorant fools tried to get a wave going in the top of the seventh inning. Didn't they realize the drama that was unfolding before their very eyes?
Perhaps not. After all, they had the worst seat in the house to watch the most important person in the stadium yesterday: the Mets scout sitting behind home plate, ready to report Barry Zito's every move back to Omar Minaya. Zito had just passed the 100th pitch mark, and the scouting report was about to be finalized. What would it say?
After this grand slam in the first inning by cleanup batter Troy Glaus: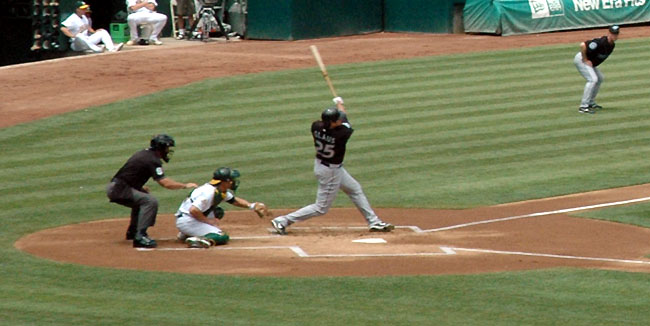 the guys sitting behind me said, "Get Minaya on the phone and tell him he can play his prospects today. Zito's not going anywhere."
Zito's control was off for the first five batters or so, but then pitching coach Curt Young came to the mound, and Zito settled down after that. The Blue Jays got a bunch of hits early on that always seemed to be six inches out of the reach of a fielder. But that was just bad luck more than bad pitching: the holefinding didn't last too long, as the defense stepped up.
Eric Chavez broke Mike Gallego's team record for consecutive errorless games at third base, with several amazing plays. Chavez nailed down all the Blue Jay gold glove votes with this amazing play, off the bat of John McDonald.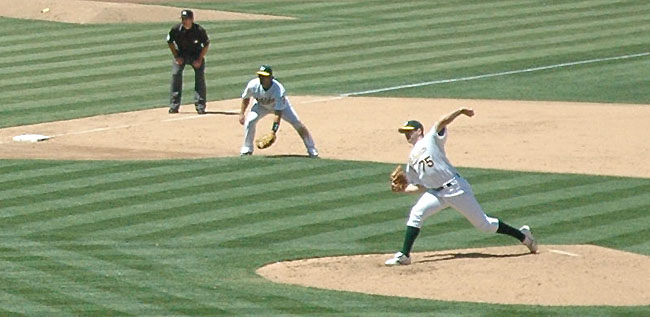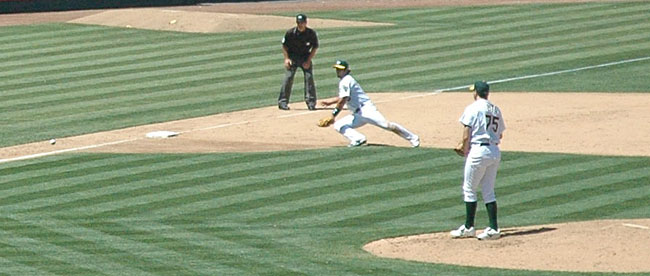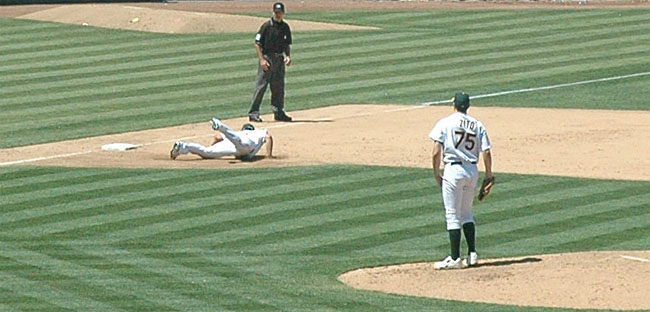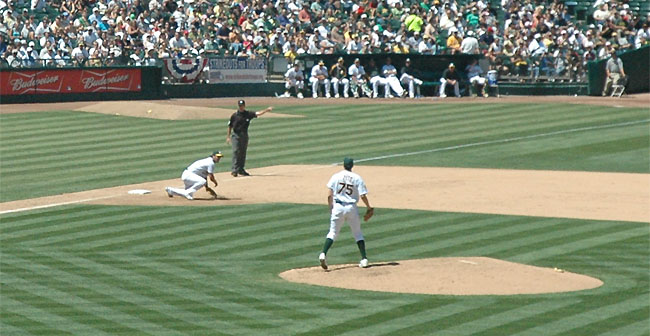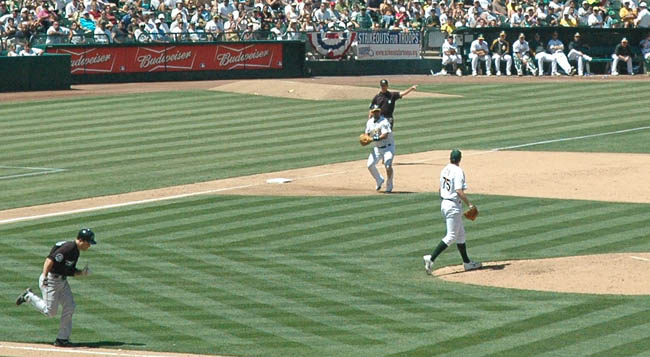 Chavez's arms seem to be healing, and he's making much better swings at the plate these days. He had a single and a double, which ends my Chavez Fast.
It's just in time, because Nick Swisher has started looking simply awful at the plate. Everyone is throwing him low changeups, and he's getting way out in front of them. So I am now on a Nick Swisher fast. I'm not going to watch him bat until he has both a walk and an extra base hit in the same game.
But back to Barry Zito. Only Billy Beane and Omar Minaya know for sure if that was his last game in an A's uniform. All signs point to Zito remaining on the team. But if it was his last stand, it was fabulous.
After the grand slam, Zito was brilliant, shutting down the Blue Jays completely through 6 2/3 innings. After he struck out Alexis Rios (he had Rios looking foolish all day) for his 117th pitch, Ken Macha strolled out to the mound, and took Zito out. Zito walked off to a standing ovation from a very appreciative crowd.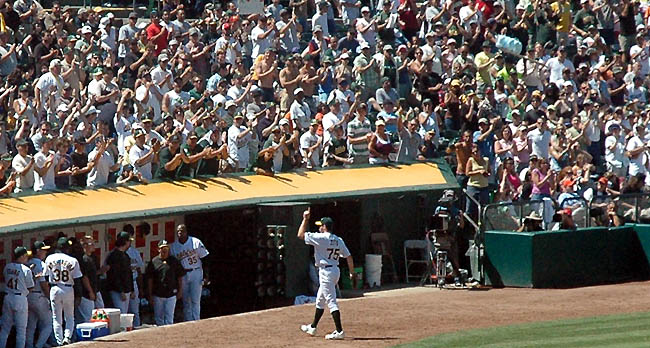 #1 indeed.