So I didn't get to see the A's clinch the division today. Shoulda figured. I'm a jinx when the A's play the Angels. After the game, my wife asked me the last time I saw the A's beat the Angels in person, and I failed to come up with an answer. As far as I know, I may have never seen the A's beat the Angels in person. I know I'm at least 0-for-my-last-7 or so, including one game in Anaheim. My very first ballgame ever was an A's-Angels game in 1974, and the Angels won that one too.
Today's loss probably had more to do with John Lackey than me, however. (And now, we interrupt this blog entry to present this Johnny Carson routine:)
Lemme tell ya, John Lackey was really good today.
How good was he?
John Lackey was so good, he not only broke about a dozen A's bats, he actually made Mark Ellis break his bat so badly that both of his forearms fell off:
That's sooooo good.
Good for the Angels, and too bad for the A's. Mark Ellis is going to have a hard time turning plays like this one without his forearms: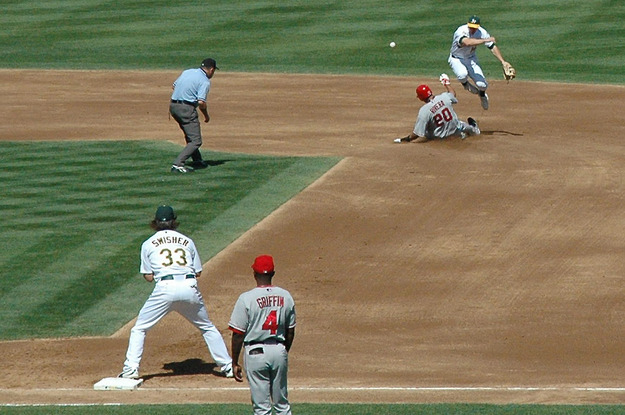 Oh, well. Let's hope Ellis can grow some new forearms by tomorrow afternoon. And maybe tomorrow Philip will have better luck watching the A's beat the Angels than I do.