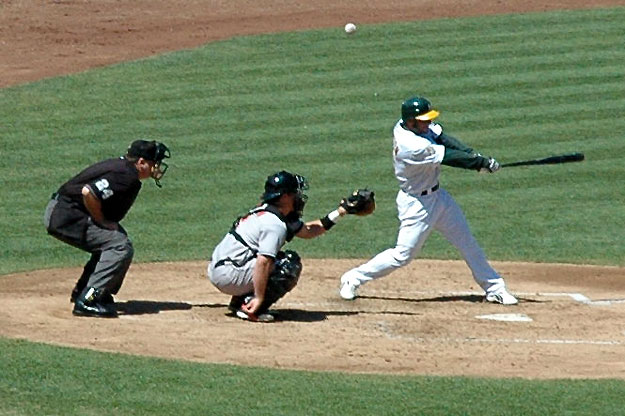 Jay Payton has left the A's for Baltimore. He leaves Oakland as a well-liked, if not well-loved player. He did his job, played up to expectations. The thing I liked about him is that when you needed him to put the ball in play to drive home a run, he would put the ball in play and drive home the run. It was nice change from the oh-so-frustrating draw-a-walk-in-RBI-situations days of Jeremy Giambi and Erubiel Durazo. Of course, he would rarely draw a walk in an need-to-get-on-base situation, but you can't have everything.
We finally have a non-Mets trade rumor. Dan Haren for Jeremy Reed! One of the best pitchers in the AL for a guy who can't hold on to his job on the worst team in the division! Thank you, John Hickey, for making stuff up, just like I asked. That was incredibly creative.
One theme seems to be emerging, however: Beane is shopping for a young center fielder. Milledge, Reed...he's looking to replace Kotsay, who (a) is a free agent after next season, (b) had his full no-trade clause expire after the 2006 season, and (c) has, by the numbers, suffered a severe drop in defensive range over the past two seasons. Kotsay may have a better reputation right now than actual value, which means Beane should probably trade him if he can. But first, he needs someone to play center in 2007, because Payton is gone, and Milton Bradley can't be trusted to stay healthy. (Neither can Kotsay, for that matter.)
Still, two rumors isn't enough for me, so I'll make up a rumor right now: Billy Beane has a deal in place to trade Mark Kotsay to the Chicago White Sox for Gio Gonzalez and another prospect, but it won't happen until and unless Beane can find another centerfielder from elsewhere.
Oooh, doesn't that just sound tantalizingly plausible, even though I pulled it out of my ????