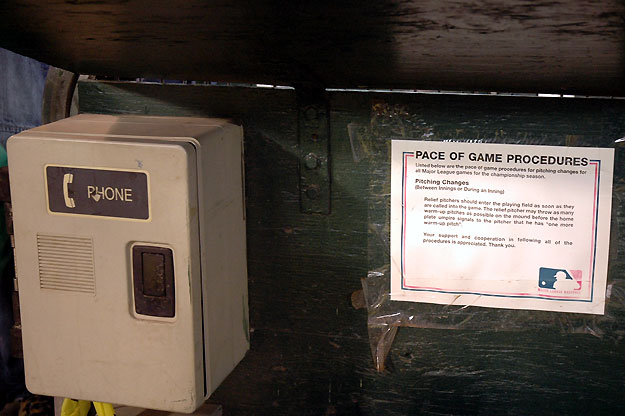 Just to clarify: this is the phone that got the calls to tell Dennis Eckersley to get prepared to do the Phone-Enduced Dramatics (PEDs) that eventually got Dennis Eckersley a certain phone call that Eckersley's twice-teammate Mark McGwire is not going to get today.
Personally, I do not believe McGwire's dramatics were phone-enduced, but what do I know? I never really thought that McGwire was phone-call worthy while he played in Oakland, partly because he could never stay healthy or slump-free long enough to put together any long stretch of dominant play, and partly because I don't think he was all that great a relief pitcher.
Whether or not McGwire gets the phone call today, I don't feel required to have an emotional reaction. We'll leave that job to the Cardinals fans.
Goose Gossage, on the other hand, was a great relief pitcher, did get calls on that phone, and although those particular calls didn't produce the most dramatic moments of Gossage's career, I'd really like to see him get one more phone-enduced dramatic moment. Although Yankee fans would deserve the emotions far more than I, I plan to steal a little bit of the joy or disappointment for myself and my fellow A's fans. Call me selfish.