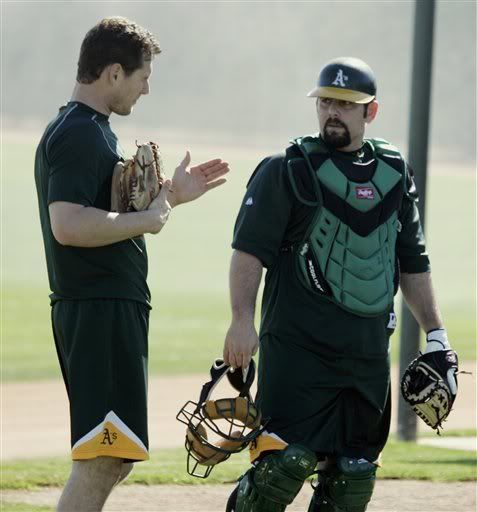 [AP Photo/Eric Risberg]
Our long national nightmare is over. We can all officially bid farewell to the offseason of our discontent and welcome spring.
Pitchers and catchers have voluntarily reported to Phoenix Muni by now, as most of you know. Jeremy Brown and Lenny DiNardo are pictured above; they're among the couple dozen pitchers and catchers who begin the mandatory workouts today. Brown and DiNardo are also among the handful of players that have shown up early to fight for the 24th and 25th roster spots.
It's telling that Mike Piazza hasn't shown up to camp yet. Perhaps he's working on getting used to his new role as a designated hitter.
Joe Blanton is in camp, and is sporting the standard spring training untrimmed facial hair, going for the "I spent my offseason playing golf horseshoes and video games" look. Maybe it's for good luck, he could use it. He's looking slimmer, though, if anything can be ascertained from this photo:
[AP Photo/Eric Risberg]
As for everyone else, the positional players are due to report next Wednesday the 21st, with the first full workout on the 22nd. There are already quite a few A's around Papago Park, though. According to Bob Geren, "I guess we've had a steady stream coming in the last couple of weeks, guys are coming in earlier and earlier every year. That's very encouraging to hear that."
I just hope someone labels the sunblock this year.
With live games quickly approaching, we're all that much closer to Opening Day.
Countdown to Opening Day: