I already have a sunburn.
The thing is, I really don't care. As I type this, I'm sitting at a cafe on Mill Avenue in Tempe, just a few blocks away from Phoenix Municipal Park. It's about 75 degrees, nice enough weather to make me forget that Oakland just lost a game to Kansas City.
Of course, the score of spring training games doesn't really mean anything. Mike Piazza taking one off the elbow, however, does.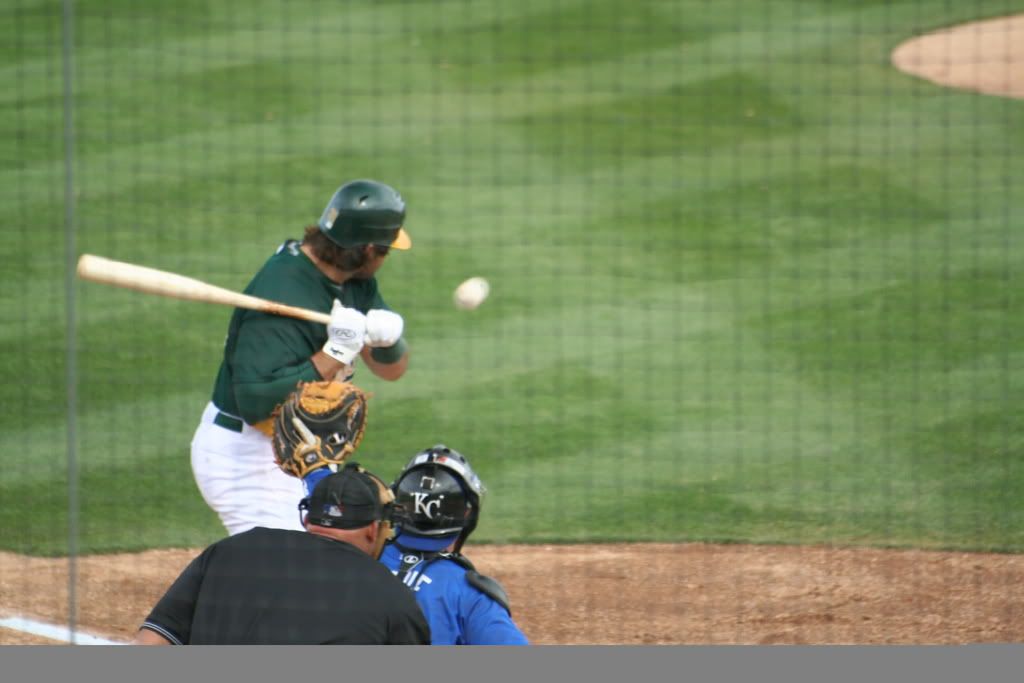 Piazza has a "bruised triceps", and will be out for a couple days. The injury bug seems to be striking the A's early this year.
Joe Blanton looked like he was struggling a bit with command in his first spring start. Though he struck out four in two innings, he also gave up three hits (one homer) and two walks. He threw a ton of pitches in the first inning.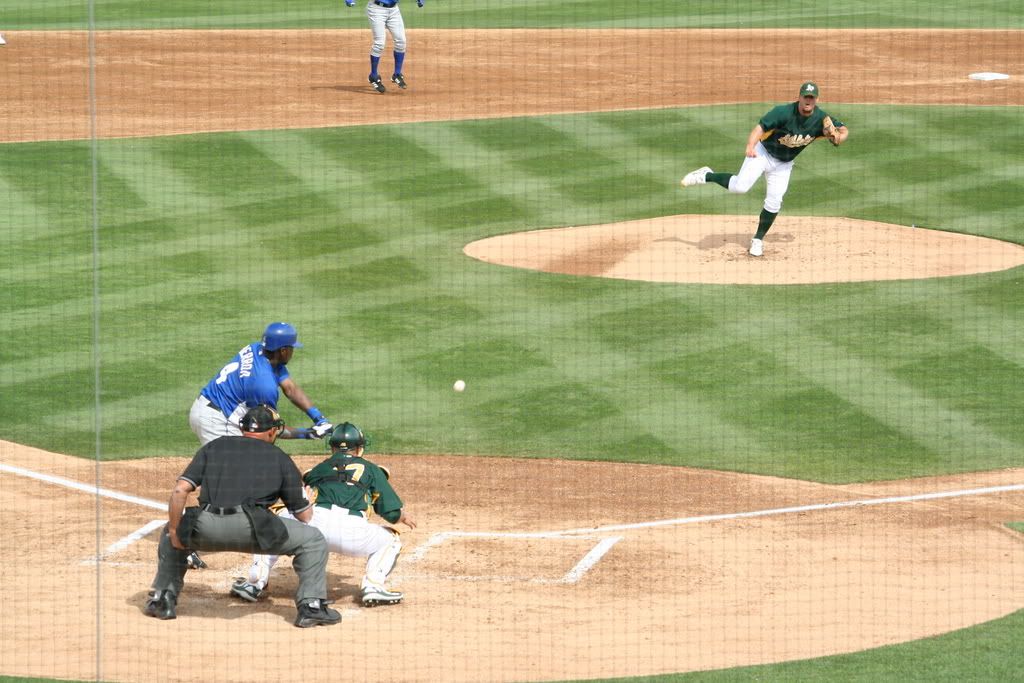 I sat next to a very nice and talkative fellow from Sacramento, which was fun for me, since I rarely get to chat with people who actually live in the Bay Area or A's territory. He said he used to be a Brooklyn Dodgers fan, and recalled watching the 1955 World Series. Wow, I'm far too young to be a Spring Training regular... My dad wasn't even born yet in 1955. His wife was excited to hear Graham Koonce announced entering the game, but was a little confused when he came out wearing blue.
Super prospect Alex Gordon came into the game late, promptly smacked a ball to left field and chatted up the A's own top hitting prospect.
Gordon then saved the game for the Royals with a nice 5-4 double play that killed a tenth inning rally. Thanks, Alex.
After the game went from Oakland-Kansas City to Sacramento-Omaha to Midland-Wichita, most of the 2,000-odd people at Phoenix Muni became eerily silent. This was easily the quietest game I've ever been to. Even in the early innings the crowd wasn't that into the game, so when Joe Blanton expressed his dislike for a walk by shouting a vulgarity, people in the back rows expressed surprise.
It was so quiet, many of us in the crowd were treated to an a capella play-by-play drifting out of the press box where Robert Buan sat. Its not spring training without a Buancast, after all.
The silence was broken in the tenth inning when, after a string of pickoff attempts at first, Royals pitcher Matt Wright unleased a Nuke LaLoosh pitch that caught Lou Merloni squarely in the back of the helmet. It was shockingly loud.
I can't believe I'm writing this, but Erubiel "Alligator Arms" Durazo looked pretty decent at first base. He scooped a couple throws, and looked decent doing it.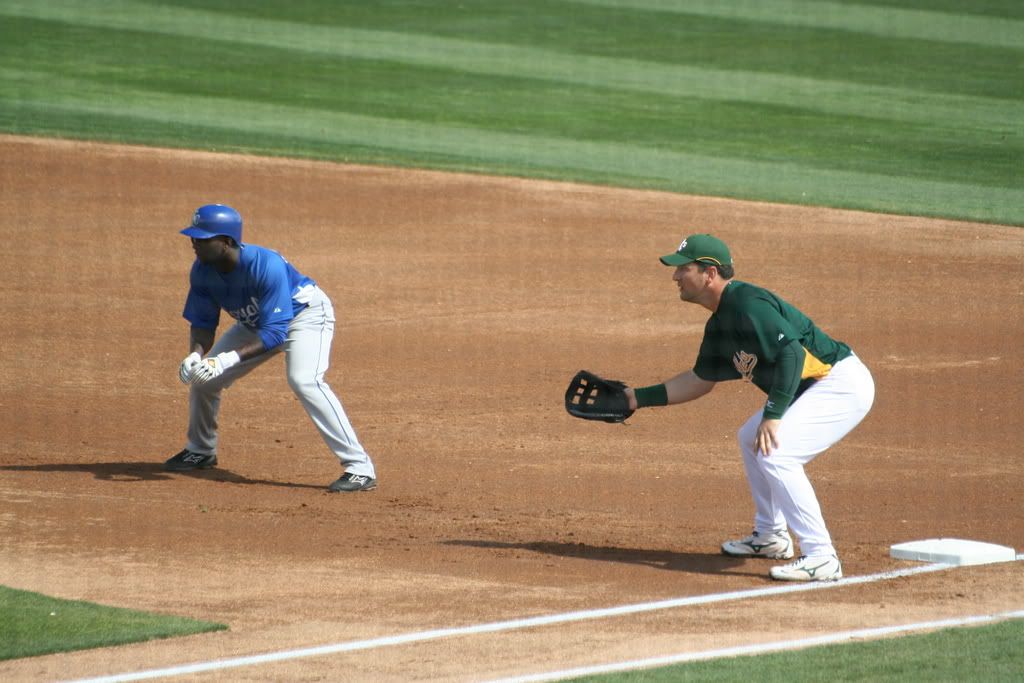 Also in the better-than-I-expected-at-first department is Daric Barton. We've heard so much about how he's a poor first baseman, when he fielded a hot shot down the first base line and tossed it to the covering pitcher, I had to give him some credit.
Barton can hit, too. The sound his bat made after contact with this ball almost made me forget the ping that I've been subjected to by college baseball so far this spring.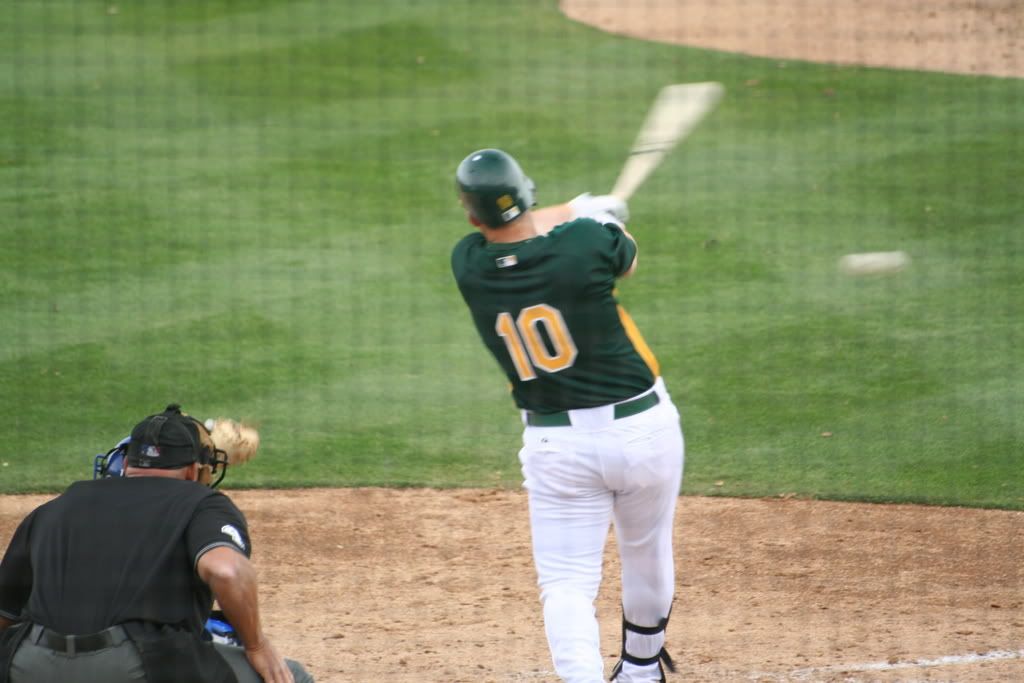 The A's take on the Cubs at always-packed HoHoKam on Wednesday, and I'll be there. I'll check in with you all after the game, assuming I can find a wireless hot spot again...