It's funny, I drive over a thousand miles to watch baseball in Arizona, and I end up sitting next to a guy who wants to talk about crossbred beef marbling and post-emergence herbicides. I could have done that at home in Nebraska.
That's what you get when you take in a Cubs game at HoHoKam. Folks who've made their annual trek from the corn belt to see their Cubbies begin "next year".
Don't get me wrong, though, I enjoyed talking with that older gentleman from central Illinois. I don't think he'll stumble across this, though, since I overheard him refer to an email from his grandson as "an internet he sent me".
The ballgame itself featured the Cubs likely Opening Day lineup, with Carlos Zambrano taking the mound.
The A's -- or should I say the River Cats -- sent out a less-than-impressive lineup. The only starters to play were Nick Swisher and Jason Kendall. Shannon Stewart and Dan Johnson started, but they may be in platoons to start the season, or -- in Johnson's case -- might not make the team.
Kendall watched the first couple pitches of his at-bat to lead off the game, and then laced a pitch down the right field line for a double.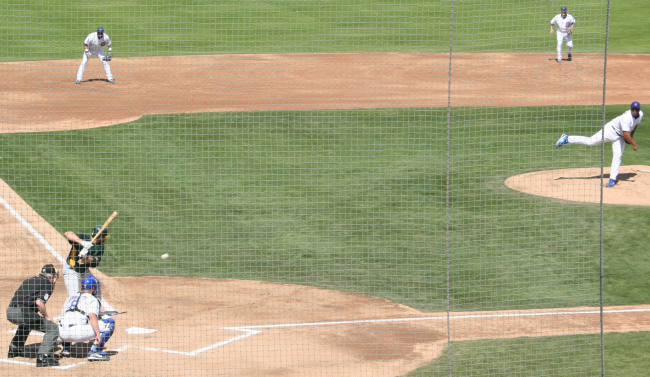 The first inning was pretty brutal, as presumptive 5th starter Joe F. Kennedy was nothing but hittable. The F in his nicknamed middle name (real middle name: Darley) refers to the expression that A's fans made as pitch after pitch was crushed.
The A's and Cubs both spent the majority of the first inning chasing after balls instead of fielding them.

Some were errors, and some were just hit so hard that they had little chance of finding leather before grass.
The A's made a few nice plays later in the game. Antonio Perez certainly seems to be a decent second baseman, and his speed really is evident out there. JJ Furmaniak is an able shortstop, and while he isn't in Marco Scutaro territory, I'd have no problem with him being a backup to he who shall not be mentioned for fear the simple uttering of his name will cause an injury.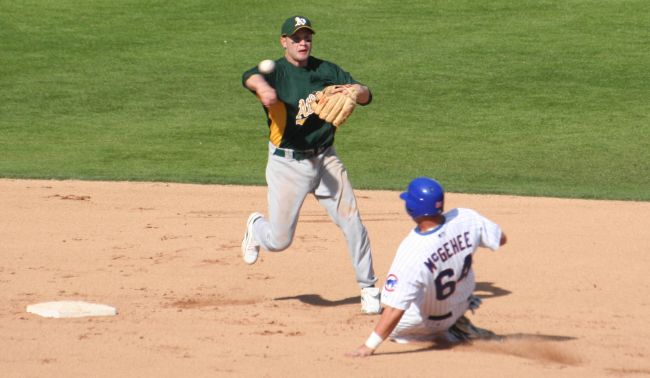 I found it consistently amusing when the Cubs PA announcer referred to Hiram Bocachica as "Bocachia". Boca is Spanish for "mouth". Chia is American for "stupid grass-growing hunk of terra cotta". Imagine a clay mouth covered in grass on the windowsill of a kitchen. Now you're with me.
Around the fifth inning, I noticed a sound not unlike an owl dying from a seizure emanating from the outfield. That's right, the one, the only, the annoying, Ronnie Woo Woo. Apparently he needs to attend Spring Training to get ready for the regular season, too.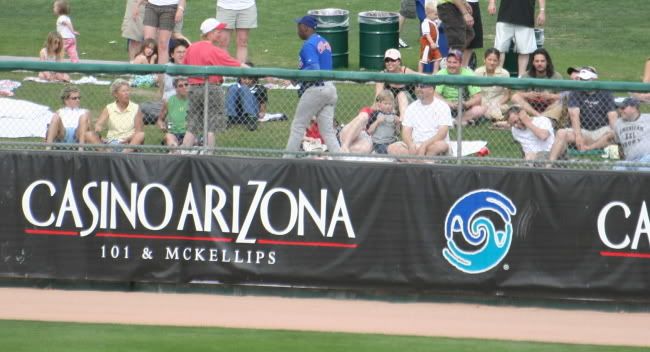 After Bobby Howry threatened to put more Cubs fans on anger medication, a nice throw by Buck Coats -- now there's a baseball name -- put out Charles Thomas as he tried to score. Whether he was out or not up for debate, but after a three hour and 23 minute spring training game, I think home plate umpire Brian Gorman wanted to get out of the sun and go get a steak at the Pink Pony.
- - - - -
I'm going to be watching the A's take on the Rangers in Phoenix tomorrow. It's the return of Ron Washington, so it should be an interesting pre-game. If anyone wants to say hi, I'll be the guy sitting in section F wearing a worn-out A's hat, peering through a telephoto lens.