The A's are fortunate that these spring games don't count for anything, since I've seen the A's lose in all three games I've so far attended.
Either I'm bad luck, or Oakland can't beat teams that have managerial connections with them.
Case in point: The A's last three losses have been to the Royals, Cubs and Rangers. Consider this: Bob Schaefer, current A's bench coach, former Royals interim manager. Rene Lachemann, current A's third-base coach, former interim Cubs manager. Ron Washington, current Rangers manager, former A's third-base coach. I rest my case.
In all seriousness, though, it was hard to miss today's real storyline. With the Rangers coming to visit the A's at Phoenix Muni, it was The Return of Wash: The Prequel.
The A's don't play the Rangers in the regular season until April 20th (in Arlington) and Ron Washington won't return to the Bay Area until the May 28th series in Oakland. This was an opportunity for the A's to see their beloved old third-base coach in the other dugout on friendlier terms.
During batting practice, Eric Chavez came bounding out of the dugout, nearly sprinted across the field, and gave Wash a big hug.
Once the hugs and handshakes finished, most everyone remembered that there was a ballgame to play.
Milton Bradley and Charles Thomas were ready to play, as they each knocked out two hits. Bradley's triple off of Vicente Padilla garnered the loudest cheers of the day.
I'd wager that Bradley has made one of the bigger shifts in fan acceptance in recent years. He came in with a less-than-stellar reputation, and he's now won over nearly every Oakland fan I've met. It's amazing what an great home-run dance and incredible performance in the ALCS will do for someone.
-- - --
I don't know what kind of bats the A's are being supplied with this spring, but I've seen more broken bats in the last three games than I've seen in the last twenty.
Here's Durazo shattering yet another bat, against Vicente Padilla:
I've got a lot more eye candy for you from today's game after the jump:

Slammin' steroidin' Sammy Sosa received a surprisingly loud welcome to the park in his first at-bat against Dan Haren. There were about as many loud boos as there were cheers. I didn't expect so many people to still feel so strongly about Sosa. I suppose that a lot of people still remember the magic of 1998, and the hollow feeling that we all felt a couple of years ago when it became undeniable that the summer that "saved baseball" was chemically enhanced.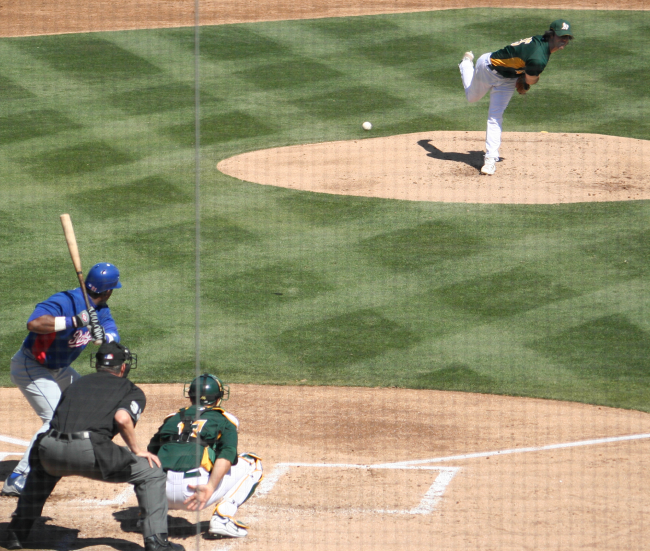 After Haren left, Kiko Calero, Jay Witasick and Huston Street all pitched well, combining for no runs, three hits and four strikeouts in 3.0 innings. No word on whether Witasick broke out "The Sizzler"...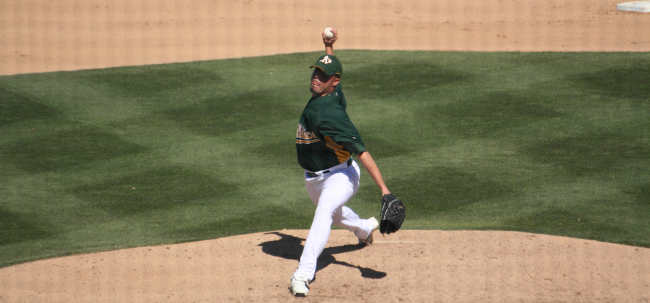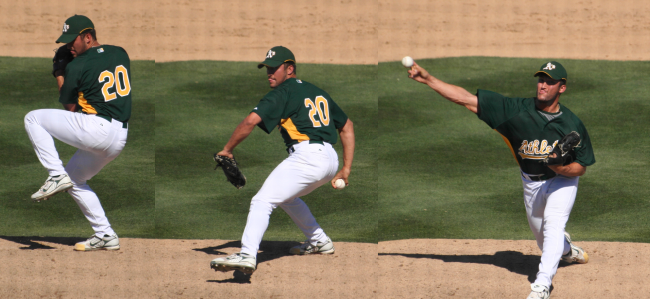 Huston Street faced Sammy Sosa to begin his inning, reminding me of Street's first MLB appearance, when he struck out Sosa the Oriole in 2005. This time, Sosa the Ranger hit a double down the line.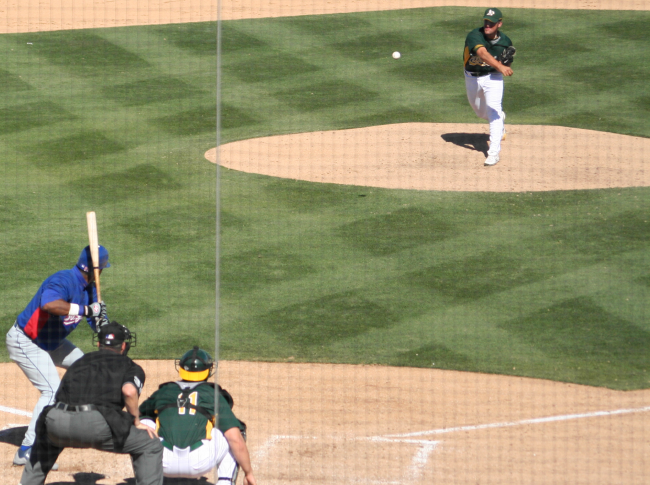 Of course, since this is Spring Training, that's far too much effective pitching for one game. Enter Erasmo Ramirez.

Guess which inning he "pitched", if you can call five hits and a walk with no strikeouts "pitching":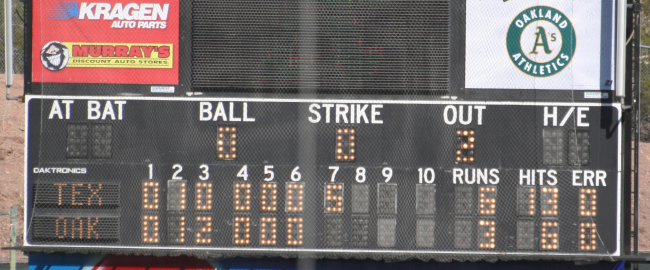 -- - --
For a few innings, Justin Duchscherer and his lovely wife Michele sold t-shirts to promote the A's-Giants video game challege. It's a fundraiser for fighting Multiple Sclerosis, and I'll be attending on Sunday.
I wanted to ask him if I could refer to the t-shirts as "Duchschirts", but I refrained.
-- - --
I'm not sure if I'm going to be at the A's-Giants game tomorrow, or if I'll be at the A's minor league complex at Papago Park. It kind of depends on whether Zito is slated to pitch, and as of 8:00 p.m. local time here in Arizona, it's still unclear.
If any of you out there feels strongly one way or the other, let me know which place I should show up at.