I can only imagine what it would be like to play as myself in a video game that tries to closely emulate my job. I don't think anyone would walk into their local video game store and ask for "College Student 2K7: In Debt Edition".
Major League ballplayers can experience that, however. It's common for these perpetual kids to spend hours playing games in which they star. Sometimes, they can even play for a good cause.
Michele and Justin Duchscherer have an annual fundraiser to fight Multiple Sclerosis. It's called "The A's - Giants Video Game Challenge", and it happened last night at Gordon Biersch Brewery Restaurant in Tempe, Ariz.
It all kicked off about an hour and a half after the A's beat the Giants 3-2 at Phoenix Muni. Nick Swisher and Esteban Loaiza were among the first to arrive and pick up their custom 2K sports jerseys.
Swisher signed for some of the early arrivals, including a couple kids who were awe-struck at meeting Swisher on the street.

Esteban Loaiza came with his wife and son, and they looked like any other family walking down the street, which was somehow very strange. I'm not sure why, but I got a kick out of the shirt he wore. It just seems to fit his attitude with the A's.
There were a ton of other players from the A's there, and a good number of Giants. Far too many, in fact, for me to try and list them all. The only significant A's that I didn't see were Huston Street, Jason Kendall, Mark Kotsay, Shannon Stewart, Erubiel Durazo, and Joe Kennedy. A notable no-show was Barry Zito, who was supposed to attend but never did make it.
The night kicked off with Dan Johnson and Dan Meyer (sans jersey) squaring off in the home run derby. I wasn't sure Dan Meyer was still alive, after hearing so little about him for the past year.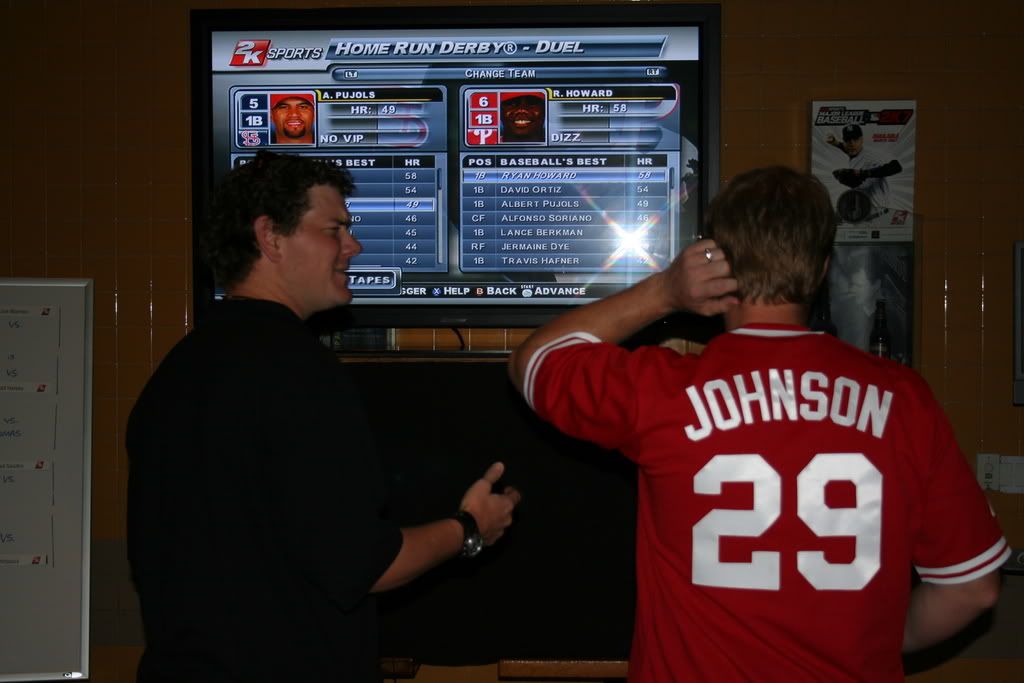 Johnson pulled the old "handshake? pull-back-and-brush-your-hair" move on Meyer, but it didn't faze him enough to lose.
Nick Swisher and Mark Ellis squared away in one of the more entertaining matches of the night. Ellis chose Ryan Howard, while Swisher -- of course -- played as himself. Swisher won, too, a fact that seemed to please him to no end.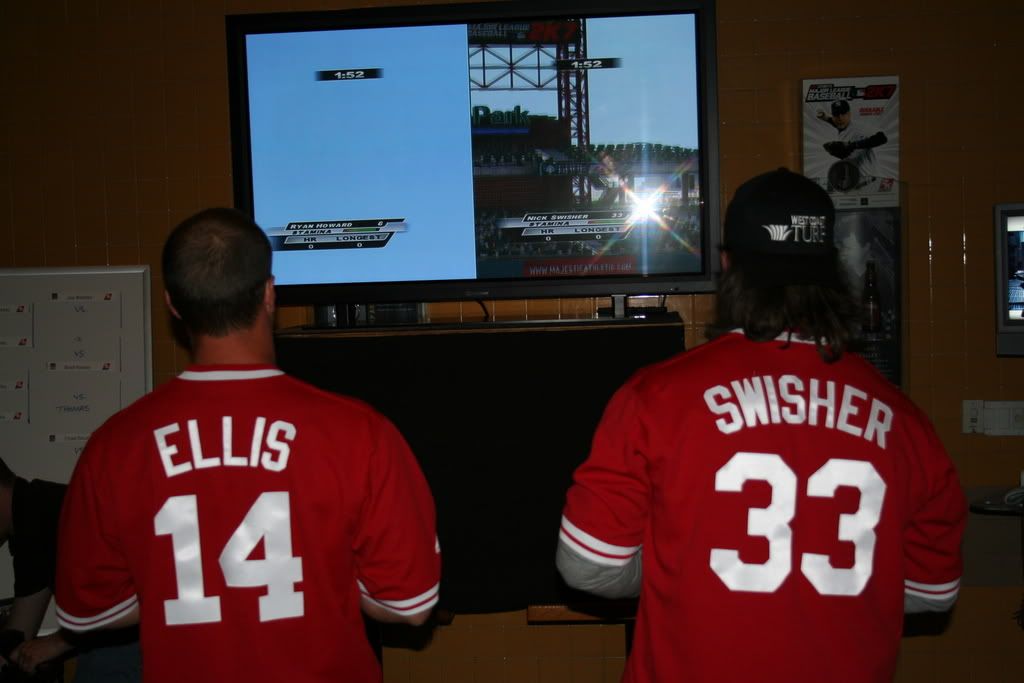 Milton Bradley and Loaiza battled it out in one of the closer matches of the night. The concentration was palpable. Bradley sure seems like a loose guy at times, but when he dials in the focus on something, it's almost scary how he seemed to shut everything else out. No wonder he lit up the ALCS last year.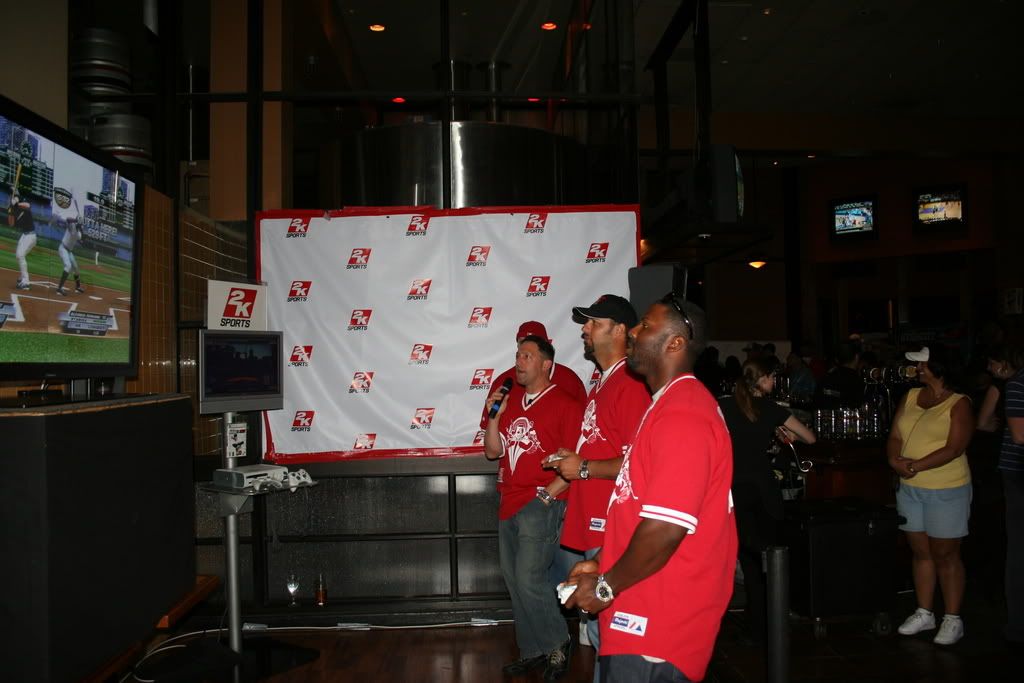 Loaiza won, though. I'll attribute that to veteran video gaming on off-days between starts. Maybe he got a lot of time to practice while "rehabbing" early in 2006.
Dan Haren advanced through his bracket to face the Loaiza, who was steamrolling through the competition.
Haren brought the place down by cracking that he "wanted to go home early, so he was going to pick Jason Kendall to hit with."
Haren didn't pick Kendall, but he still went down to Loaiza. Could anyone stop Esteban, who was hitting homers about as well as he pitched last August?
Enter Charles Thomas.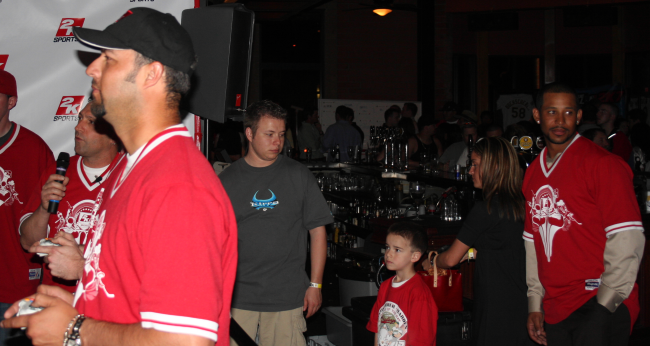 The underdog in the competition, Thomas -- who kept getting called Charles Thompson by the mildly annoying MC -- stormed though the lower bracket to take on the Loaiza behemoth.
Thomas chose Andruw Jones, while Loaiza went with Alfonso Soriano.
The competition was close the entire 2:00, with both Thomas/Jones and Loaiza/Soriano keeping within one homer of each other, down the final few seconds.
In the end, Charles Thomas -- who probably had a lot of time to play games at AAA Sacramento -- toppled Loaiza.