The other day, Cliff posted a picture of his pregame meal, and I thought, hey, that's a cool idea. I think we should make it a Toaster tradition. If you eat out on your way to the game, you have to post a picture of your meal.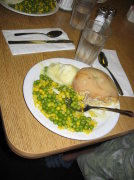 Here's mine. I'm in San Diego with family, and on the way to the Giants-Padres game tonight, we stopped at the Chicken Pie Shop, an old diner that's been around forever. It's just a few blocks from where Ted Williams grew up, so you can bet Ted Williams probably ate there.
I loved it. Not the food so much, which was pretty straightforward, or the decor, which looks like a diner straight out of the forties (and perhaps some of the decor really is from the forties), but the name. I love names that say what they are. Chicken Pie Shop. I'll have the chicken pie, please.
We left the Chicken Pie Shop, got in our Minivan, and headed for The Baseball Park. I had no rooting interest in the game, and the pitching matchup wasn't anything special (Matt Morris vs. Clay Hensley). The Giants took an early lead, and the only drama was whether the atrocious Giants bullpen would give it all back before the Padres ran out of outs. They held on with one out to spare.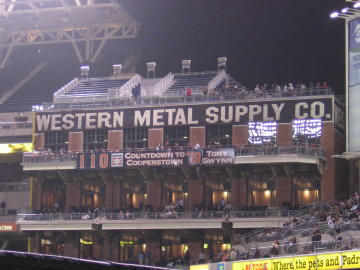 I suppose even Padres fans found the game somewhat boring, since it appears that they entertain themselves by counting the days until Tony Gwynn gets inducted into Cooperstown. I entertained myself by watching my kids play in the sandbox beyond the right-centerfield fence, and by keeping one eye on the scoreboard, to see what was going on between the White Sox and the A's.
Even the scoreboard watching was boring. Inning after inning passed by. OAK - 0. OAK - 0. OAK - 0. "Oh for heaven's sake, score some runs!" I shouted at one point, to no one in particular.
Then Armando Benitez came in for the Giants, with a three-run lead in the ninth. The out-of-town scoreboard said, "CHW 1, OAK 0, B9." With two outs, Benitez served up a two-run homer to Adrian Gonzalez. The lead was down to one. Fireworks. Scoreboard flashing. Happy music.
Once the noise settled, the out-of-town scoreboard got back to work. I looked up, and instinctively blurted loudly, "YEAH! WOOHOO!" The scoreboard, to my utter surprise, now said, "CHW 1, OAK 2. F."
Ahhhhhh. It's such a good feeling to leave the ballpark with a tough, hard-fought victory, isn't it?