Last night Todd Walker earned his white shoes and Bob Geren made his first great managerial move.
Instead of batting the flailing Bobby Crosby with two outs in the bottom of the ninth against Bobby Jenks, Geren inserted his best lefty hitter off the bench -- Walker.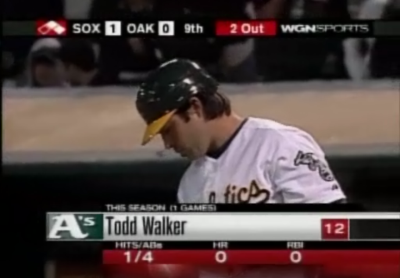 Last season Walker hit .302 against right-handers, while Crosby managed just a .242 mark. In their careers, they have a combined three at-bats against Jenks, and both are hitless.
Here's Walker's at-bat, the biggest moment of the game: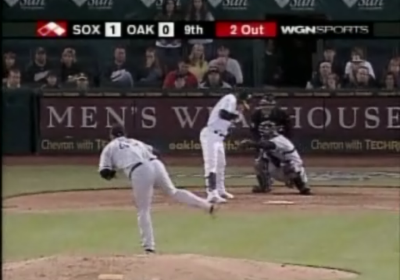 On the first pitch, Jenks threw an inside fastball at 91 mph. Ball one, count 1-0.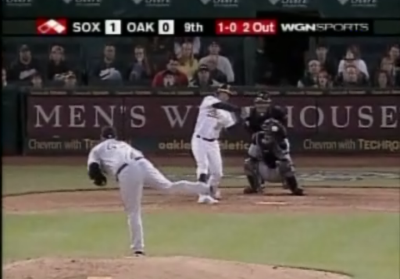 The next pitch was a high called strike at 93 mph. Count even, 1-1.
Keeping with the heat, Jenks threw a 92 mph fastball just a bit high -- the same place he got a called strike on the last pitch. Walker fouled it off, bringing the count against him to 1-2.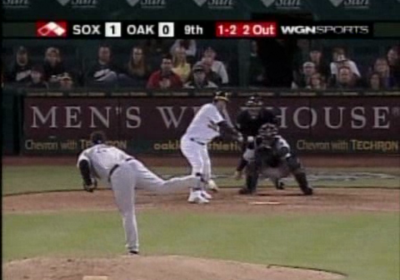 Jenks changed it up, throwing a nice 80 mph curve on the inside corner of the plate. Walker managed to foul it off to the left side, obviously frustrating Jenks.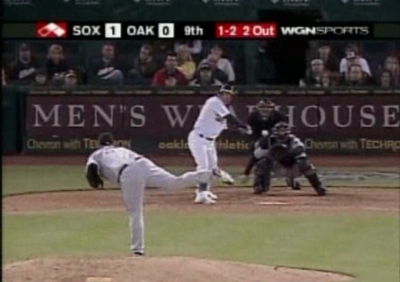 Believing in his curve, Jenks threw another 80 mph breaking pitch, except he left it out over the plate. Walker took it to the opposote field hole between Joe Crede and Juan Uribe.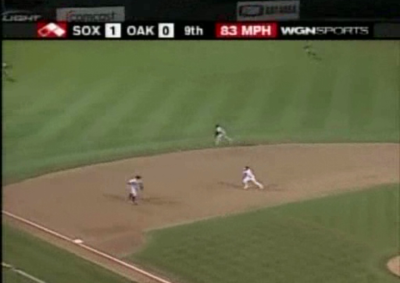 As the ball was picked up by left-fielder Scott Podsednik, Milton Bradley was rounding third base.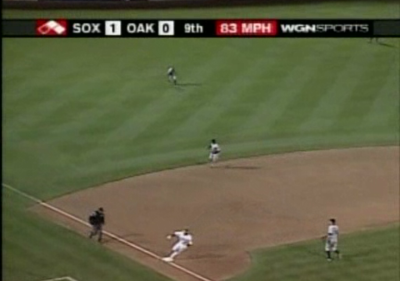 Podsednik, seeing the winning run less than 90 feet from home, gets all excited and uncorks what he must have expected to be a game-saving outfield assist.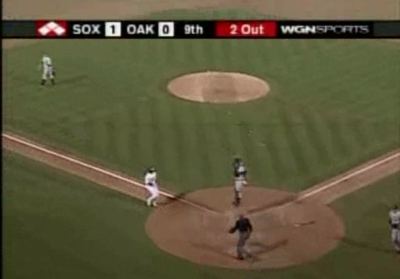 The only problem is, Podsednik overestimated the height of catcher A.J. Pierzynski by about ten feet.
Bradley scores, game tied, Coliseum rocking.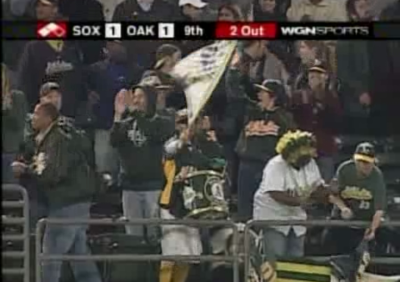 From the A's wrap, Jenks understands exactly what cost him the game: "The only pitch I'm upset about tonight is the one to Walker. It was a curveball that was supposed to be in the dirt... We could have been out of the game with a win if I just put that in the dirt. It's that simple."
-- - --
Of course, many will point to Mark Ellis' double off of the wall (and Podsednik's head) as the key point in the game, but I'd have to disagree. Of course that was the game-winning hit, and was very important, but had Walker not fouled off two good two-strike, two-out pitches before poking a ball into left field, Ellis would never have seen the batter's box that inning.
If you don't believe me, here's a graph to show you how, with one swing of the bat, Walker improved the A's chances of winning by 46%
That's from FanGraphs wonderful little Win Expectancy feature. Walker's single brought the A's back from the valley of the shadow of death and took them to the mountaintop, if you'll tolerate a little hyperbole...
And just because I derive great pleasure from the schadenfreude of seeing it, here's this little piece of glory: