"Hey, Marco, I can hit game-winning three-run homers, too, ya know! Watch this:"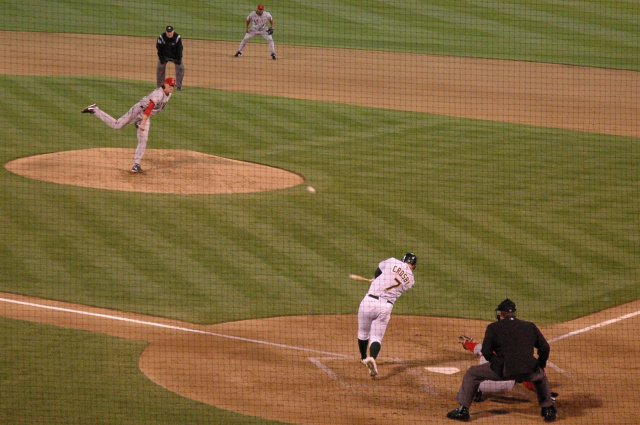 Pow!
OK, so that wasn't quite so dramatic a shot as Marco Scutaro's home run on Sunday, but it'll do fine. I'm frankly getting pretty weary of high drama in every single baseball game the A's play, so getting the big home run much earlier in the contest is quite a welcome sight. A nice, quick relaxing victory is just what the doctor ordered.
I also figured out how to break my 974-consecutive-loss streak when witnessing the A's play the Angels in person: show up late. My daughter had soccer practice until 7pm, and I had to drive her home, and then drive out to the Coliseum, where both the A's and the Warriors were playing this evening. The parking lots were long since full by the time I got there, so I ended up quite a hike away on the other side of the freeway. I didn't get to my seat until the bottom of the second inning.
It was a very windy and bitter cold evening. Large waves rippled through the tarps on the upper decks. Fortunately, it was a very fast game. Chad Gaudin had little trouble with an unimposing Vlad Guerrero-less Angels lineup.
Jered Weaver, coming off the disabled list for his first start of the year, was also effective for the most part, although he wasn't quite as impressive as I've seen him in the past. His fastball was around 86-89mph, with the occasional 92mph, which is about 4-5 mph slower than I recall him throwing before. He was getting the A's out with slop, which is fine, I guess, but it sent visions of Frank Tanana dancing in my head...one day you have a very effective, totally overpowering pitcher, and then there's an injury, and the next day, you're left with an effective junkballer. Effective is effective, I suppose, but all things being equal, you'd prefer the guy with the big heater. Make a mistake with a 96mph fastball and you can usually get away with it, but hang a curveball, and the Bobby Crosbys of the world can beat you. Still, it was just his first start, so there's probably little cause for Angels fans to panic. About the pitching anyway.
That lineup, on the other hand, without Vlad in the middle of it...Guerrero was out after getting plunked yesterday in Boston, and tonight Howie Kendrick got plunked, as well: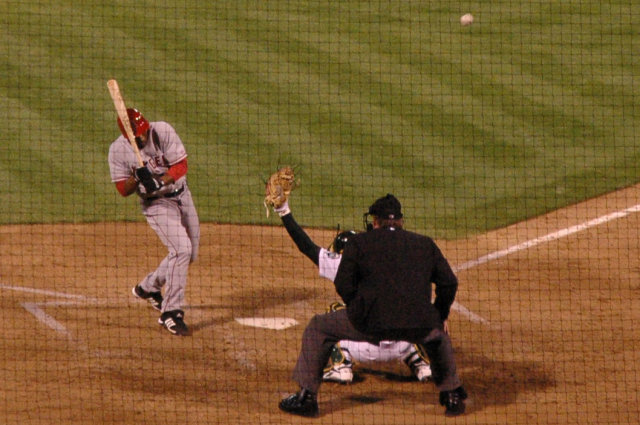 That had to hit something pretty solid to bounce that far up in the air in the other direction. Kendrick stayed in the game for a while, but got pinch-hit for his next time up. The Angels offense is pretty weak to begin with, but no matter how good their pitching is, the team can't survive too long without Vlad, Kendrick and Juan Rivera. Those are their three best hitters, and it's possible they may all be out tomorrow, and who knows how much longer?
But what am I worrying about the Angels for? Let's hear it for Bobby Crosby, who had quite the jittery start to the season, but was the hero tonight. It looked for the longest time that the game was going just a little too fast for him to keep up with, as he returned from his injured back. But the last few games has started to make better contact at the plate, and his defense, still rocky as of just two days ago, tonight looked much better, as well. The best sign that he might be catching up to the speed of the game came on a slow bouncer up the middle that he had to charge. Earlier in the season, he probably would have rushed an off-balance throw towards first, but tonight, he calmly took his time, set his feet, and make a good throw to first base with time to spare.