On an absolutely beautiful night in Kansas City, the A's improved to 28-6 in Kauffman since 2000. Chad "Go Dan!" Gaudin now has seven starts under his belt in 2007, and is carrying a 2.40 ERA and 1.14 WHIP. With 34 strikeouts, he's just two shy of his career-high, set last season as a reliever. More importantly, he's only walked 14 batters so far -- a much better SO:BB rate than he's had in the past.
So, is Chad Gaudin the real deal as a starter? Considering that he's so far faced the Angels (twice), Rangers, White Sox, Indians, and Devil Rays -- who have some of the top offenses in baseball -- I'm tempted to say that Gaudin is indeed for real. He probably won't keep his ERA under 3.00, but he sure looks good so far.
Though, I have to say, he sure turns his lead foot outward a long way when he strides. That doesn't look so good...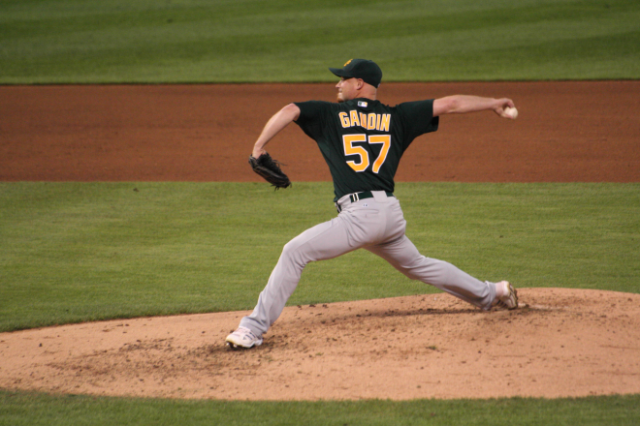 On the offensive side of things, Bobby Crosby, Eric Chavez, and Dan Johnson each doubled for the A's, combining to go 7-for-13. There's nothing to kick-start underperforming hitters like visiting Kauffman, is there? Chavez and Crosby could use a few more hits like that to get rolling, while Dan Johnson continues to impress since coming off of the Larry Davis DeathList.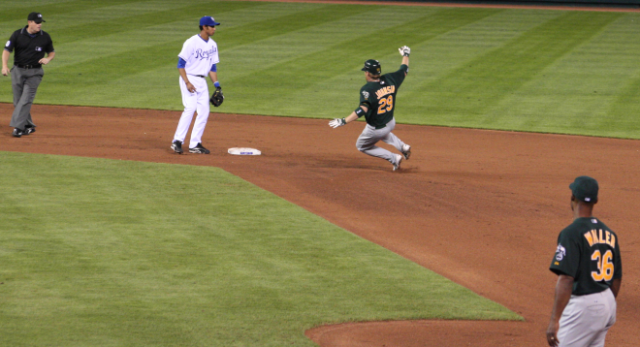 Due to a malfunction on the big screen, there were more unfamiliar names in the A's lineup than usual near the end of the game. Toris Snelling, Tock Cust, and Tobby Crosby all appeared, thanks to a "To" image artifact on the display board in left-center. "Toris" somehow seems a more fitting first name than Chris for a guy who is apparently a huge Star Wars fan. Snelling signs "Yoda" below his name, and keeps a large doll of the Jedi master with him at all times, in case you hadn't heard...
It's just too bad there wasn't anything in Star Wars about sliding into home, instead of allowing yourself to get tagged out easily.