Blanton's Rough Outing is My Fault...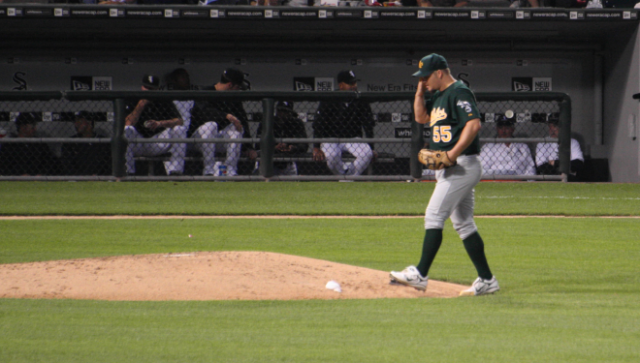 It figures that two days after I write that Joe Blanton may have finally found the good stuff he had in the minors, he gets shelled in Chicago. And I was in town to see it... although my seat, in section 110, was so far away from home plate that my 300mm lens didn't really allow much better pictures than the one you see above. I should really know better than to make judgements -- good or bad -- on pitchers that I'm going to see. See Kennedy, Joe in Kansas City (after I ripped him in spring training), and Blanton, Joe in Chicago (after I declared his return to dominance).
While Nick Swisher's 5 RBI would usually be enough run support for the A's league-leading pitching staff, Swisher's buddy from Kentucky couldn't hold down the White Sox. Blanton's line against the worst-hitting team in the league? 5.1 innings, eight hits, six runs (four earned), four strikeouts and two walks. You know he's not pitching well when the player of the game is arguably Darin Erstad (three hits, three RBI). It wasn't a terrible game, I suppose, but it was definitely Blanton's worst -- and shortest -- start of the season.
It was also my shortest game of the season, in terms of innings watched. I must admit, for the first time in a long while, I left a game before the last out was in the books. Trying to beat the rush to the red line EL, I left after Ron Flores came out of the game in the eighth inning. It appears that all I missed was Jay Witasick getting one out, and Bobby Jenks scaring the hometown fans and giving false hope to the green-clad spectators by giving up a walk and a single to begin the ninth. I still feel guilty, though.
Today, Colby Lewis -- another pitcher with excellent minor league numbers that haven't translated well to the bigs -- will try and even up the series. Lewis isn't nearly the pitcher Blanton is, and is 28 years old, so don't take my little comparison too seriously. In 179 2/3 MLB innings, Lewis has struck out 132 while walking 110, with a fairly ugly 6.76 ERA.