Some bad starting pitching caused the A's to drop the final two games of their series against Baltimore this weekend. Fortunately I didn't spend too much time dwelling on the outcomes. Saturday's loss took place as I was driving to Modesto to take in a minor league game -- Miguel Tejada hit his first-inning homer as I was walking out the door, and by the time I hit Manteca, Joe Kennedy had given way to Jay Witasick -- the universal signal for "Might as well give up on this game; Bob Geren sure has." Sunday's nearly-identical loss occurred off the television and during chore-time, so for all I know the game was staged in an abandoned warehouse in Lithicum. But that's not going to stop the mighty Game Summary machinery from rolling ever forward...
Game 48: Orioles 8, A's 3
Your Pitchers of Record: WP -- B. Burres (2-2) LP -- J. Kennedy (1-4)
Went Deep: Tejada (4), Swisher (8), Buck (5)
Your Sierra Nevada Pale Ale Star of the Game: Tejada's homer set the tone for the game and pressed the Resume button on that tiresome Miggy or Chavy debate that A's fans seem fated to pontificate on until both players are long since retired. But Brian Roberts' 3-for-4, 3-RBI performance seemed more central to the outcome of the game. Every time the A's pitchers found themselves in a jam, it seemed like Roberts was there at the plate to keep Oakland from minimizing the damage.
The Turning Point: We'll go with a sequence of events here. In the top of the fifth with the score a still nominally close 4-1, Shannon Stewart stood at the plate with the bases jammed with A's; he grounded into an inning-ending 6-4-3 double play. The Orioles followed that escape by adding another run, chasing Kennedy from the game, and then tacking on three more runs off Witasick in the bottom half of the inning. That's about the time the radio was switched off in the Michaels' car.
Game 49: Orioles 8, A's 4
Your Pitchers of Record: WP -- D. Cabrera (4-5) LP -- J. Blanton (4-3)
Went Deep: Tejada (5), Mora (6), Swisher (9), Markakis (7)
Your Royal Kona Blend Star of the Game: 2004 Olympian Nick Markakis.
The Turning Point: From the first pitch, Joe Blanton seemed to be pitching uphill, resembling the unsatisfactory 2006 version of himself instead of the much-improved 2007 edition. Nevertheless, after five innings, the A's were still within striking distance, trailing Baltimore 5-4. Then the sixth inning came: With one out, Corey Patterson singled and stole second, and Roberts followed a Paul Bako strikeout with a walk. A double-steal moved Patterson and Roberts up a base; Nick Markakis immediately followed with a three-run homer to put the game out of reach.
This was the Blanton that made me cringe last year -- easily rattled by misfortune, unable to slam the door shut on an inning. Six of the Orioles' eight runs came with two outs yesterday, usually by way of the long ball. Blanton told the Chronicle it's because he's overthrowing and keeping the ball up in the zone. Fair enough -- the trick will be to correct the problem.
Phil's Phun Phacts: In his preceding 24 games against Oakland, Miguel Tejada had never homered -- now he's hit home runs in two consecutive games. I much preferred the timid, deferential Tejada who was ambivalent about facing his former ballclub than the relentless killing machine he is now.
This Game Proudly Brought to You by Nobody: Flipped on the TV Sunday morning to Fox Sports Bay Area -- they were showing an infomercial. Changed to Action 36 -- infomercial over there, too. So to repeat -- it's a weekend day game, and it's not on TV.
Did we lose a war or something?
No, it's part of the A's horrible TV contract. And I can say that, without knowing the terms of the deal, because unless there's an ESPN- or Fox-mandated blackout or it's a weekday afternoon game originating from the East Coast, there's no reason for a game not to be on my TV somewhere. None. Save me that small-market song-and-dance the A's have trained their fans to engage in. This is the San Francisco Bay Area; the only reason that's a small market is because the guy controlling the purse streams has declared it so.
I enjoy a good deal sport at the expense of Arte Moreno and my whole Los Angeles Angels of Whatever Orange County Municipality Strike My Fancy routine. But say this for the guy -- when he bought the Angels, he saw a team situated smack dab in the middle of Southern California and said to himself, "We are ceding Los Angeles County to the Dodgers why exactly?" Moreno thinks big, and the Angels' fortunes on the field and off reflect that. The A's think small -- from player acquisition to TV contracts to the fact that they're moving to a non-descript suburb. They could steal a page from Arte Moreno's book and stop acting like a bunch of coupon-clippers -- start with hammering out a better TV deal.
And now that we've dispensed with the A's weekend activities, let's talk some minor league ball after the jump...
Let's Go Nuts: Long-time A's fans will know that Modesto was the team's long-time California League affiliate, from 1975 through 2004. During that time, the team adopted the unimaginative moniker of the Modesto A's. But, when the A's took their minor league affiliation and hightailed it to Stockton for the 2005 season, the Modesto franchise had to come up with a new nickname, this one drawn from the region's agricultural crop. And thus were born the Modesto Nuts.
"The what?" my father said, when I told him the team's nickname.
"The Nuts," I said to him.
He paused. "They really should come up with a different nickname," he said finally.
Indeed, the Nuts bring out the sniggering seventh grader in us all, thanks in large part to the team's logo, which is, essentially, a pair of nuts.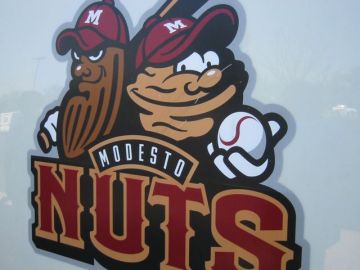 I call this logo "I think you'd better see a doctor about that."
As you can see, Modesto has adopted two mascots -- "Lefty and Righty?" my wife asks -- so as not to show favoritism to the local nut crop. The fellow on the left is Al the Almond; his counterpart on the right is Wally Walnut. And they entertain the crowds at John Thurman Field with their assorted antics.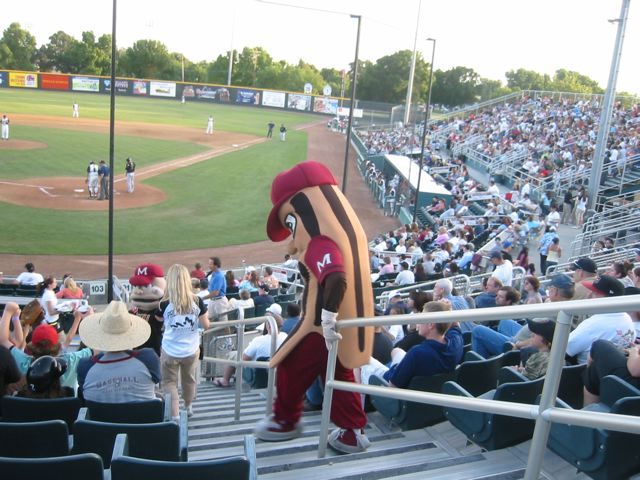 Or perhaps not -- Saturday night was Rally Mascot Night, in which a third mascot named Rally joined Al and Wally in between-innings japery. Interesting note: This was my second Modesto Nuts game -- I attended a twi-night doubleheader last year, and the promotion that night was... wait for it... Mascot Night. On that July 2006 evening, the entertainment was provided by a group called the Krazy Kritters: You can tell that they are crazy because they spell things with Ks - -- the letter k equals comedy gold! -- and because they wore jerseys with wacky numbers like 1/8 and double-zero. Fractions -- always crazy!
My point: I have now made the journey to Modesto twice. (The last time the temperature at first pitch was 112 degrees; it was 28 degrees cooler this time out.) And in that time, I have been entertained by a cumulative total of eight mascots. Surely, Modesto leads the league in mascot appearances.
As for Rally, his act was to alternate between from-the-the-trunk mascot gags -- "Look -- he's interrupting as that audience plant proposes to his 'girlfriend!'" -- and dancing to hip-hop music. ("Rally's totally in my face!")
Then again, perhaps I'm not the target audience for this business. Back in my college days, the San Diego Padres introduced a mascot that seemed to be the by-product of about three different market-research groups that secretly loathed one another -- it was a dog with blue fir and an oversized tongue and a baseball for a nose. The Padres held a Name-Our-Mascot contest and one of my pals -- I'm pretty sure it was Monty -- proposed naming the thing either Down In Front or The Hideous Blue Thing That Taunts Children; sadly, his suggestions were voted down, as the Padres went with "Bluepper" -- because he's blue, you see -- for the duration of the mascot's thankfully short existence. So I'm not a big fan of mascots, but on Saturday in Modesto, I was in the decided minority.
Oh, you want to know how the game went?
Well, the Nuts built a 3-0 lead on some timely hits and a strong outing from starting pitcher Alan Johnson (just two runs in 7 2/3 innings). But San Jose kept chipping away and eventually tied up the game in the ninth. Modesto eventually rallied to win on a 12th-inning walk-off walk -- perhaps the dullest form of walk-off victory. And my wife and I were there for all three-and-a-half-hours of it. Why stick around that long for a minor-league game in which we had no rooting stake? Because on Saturday games, Modesto has a post-game promotion in which you launch tennis balls onto the field to win valuable prizes. Before the game, we purchased a $5 bag of six balls, thus ensuring that the game would last deep into the night. We did win some free In-N-Out Burgers, thanks to my wife's rocket left arm. Maybe the Nuts should offer her a contract.
It's a shame the game went on and on, too, as the sweetest play occurred in the first inning. Lead-off man Dexter Fowler walked and on Eric Young Jr.'s subsequent bunt, none of the Giants thought to cover third base. So Fowler hit second base and just kept running -- the Giants nearly muffed their tardy throw to third, which meant Fowler came within a hair of going from first to home on a 5-3 sacrifice.
Unless there are multiple Eric Youngs running around New Jersey, I believe Modesto's EY is the off-spring of Scott Long's favorite Baseball Tonight analyst -- sorry, Scott, but I was not seated close enough to hear whether EY Jr. begins each bat with a "I'll tell you what" like his old man.
Young recorded two sacrifices in the game and that doesn't count the number of times he or the other Modesto batters tried to bunt and fouled it off, forcing them to swing like men. I find it humorous that the California League affiliate of the Colorado Rockies is stocked with a bunch of punch-and-judy hitters -- as of this writing, the leading power hitter on the Nuts has five homers through 42 games. (This is partly because the left center alley of John Thurman Field is a bit of a Death Valley for flyballs.) Something for Mark T.R. Donohue to look forward to, at any rate.
Please don't expect me to rave about prospects. I have no eye for that sort of thing. I like to remind people of the Lake Elsinore Storm game I attended in 1996 against the then-Modesto A's. Apparently, both Miguel Tejada and Ben Grieve played in that game, and the only reason I know that is six years later, I was cleaning out my desk, when I found the scorecard for that game with both future Major Leaguers listed on it; that was about the extent of the impression the 2002 MVP and 1998 Rookie of the Year made on me during their Single-A days.
So, I was impressed by Fowler and also Chris Nelson of Modesto. On the San Jose side of the ledger, David Quinowski made the biggest impression with three strikeouts in two innings of scoreless relief. And now, having touted these young men, I've doomed them all to a lifetime of obscurity. Sorry, fellas.
Philip Michaels: Traitor to His Class: Last week, I mentioned the moral dilemma posed by the high-school playoff matchup between the Alameda Hornets (Phil's current hometown) and the San Ramon Valley Wolves (Phil's alma mater). In a betrayal that will make sure I am disinvited from all future alumni events, I decided to cast my lot with Alameda -- this is where I'm paying the property taxes, after all, and, truth be told, I didn't particularly enjoy my high school years (though this had less to do with the school's baseball program and more to do with girls and an awkward adolescence). Anyhow, I backed the right horse because Alameda won and will move on to face Clayton Valley this Wednesday. I have no ties to Clayton Valley, so the Hornets should feel free to win with gusto.