Yes, the unthinkable happened. Jason Kendall not only went 3-for-4 to raise his batting average above the Mendoza line to .210, but he homered. Yes, the man with the .214 slugging mark -- 75 points lower than any other player with at least 3.1 plate appearances per game -- managed to squeak one over the fence.
Entering the game, it had been 618 at-bats since Kendall's last homer -- a line drive that cleared the left-field fence in Oakland by about one of Ray Fosse's moustache hairs.
If there was ever a ballpark -- other than a little league field -- made to help Kendall's home run numbers, it's Enron Minute Maid in Houston. The Crawford boxes sit just 315 feet from home plate, if you believe the official numbers.
To illustrate just how ridiculously close that is, I've overlaid a map of Minute Miad Park over Jason Kendall's home ballpark hit chart from this season. If Kendall played in Houston, three of his fly-ball outs would have gone for home runs instead.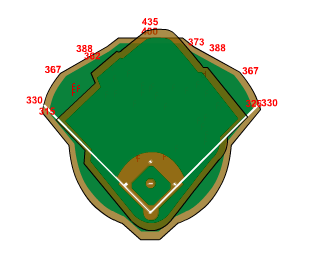 If you look at last year's data, you can add perhaps another four home runs to his total.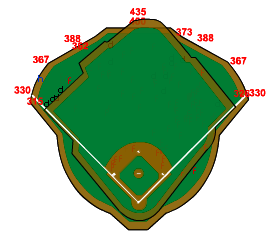 And looking back to 2005? Another home run would sneak over the wall, adding to Kendall's total.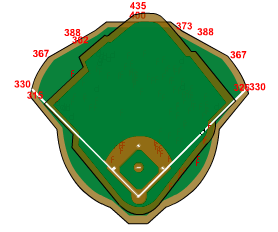 So, a reasonable conclusion here is that due to nothing other than the extrememly short porch in left field, Jason Kendall could have hit eight more home runs if he played his home games in Houston instead of Oakland. I'm sure there are quite a few A's fans that wouldn't be too upset if that had in fact been the reality.
It all makes me wonder... how many fewer homers would Lance Berkman, Craig Biggio, Jeff Bagwell and Morgan Ensberg have hit if they'd played in what I'd refer to as a "normal-sized ballpark"? After taking a peek at their hit charts... quite a few, indeed. For example, Craig Biggio has hit exactly one home run that wasn't somewhere in the Crawford Boxes in all of the years he's played in Minute Maid. Morgan Ensberg and Lance Berkman live off the short fence, which was built to help out Jeff Bagwell's stroke. Should we discount power numbers in Houston just as we discount averages put up in Denver?
I'm going to guess, by paraphrasing Satchel Paige, perhaps Jason Kendall looked back, and saw Kurt Suzuki gaining on him. He's gone 5-for-9 since Kurt joined the team after the tenth... In any case, Jason Kendall did a mighty fine job as the unlikely spark of Oakland's offense, helping the A's to pull within one game of the Mariners, and stay just five back of the Angels.