Before I headed out to the Oakland Coliseum for yesterday's A's - Reds game, Bob Timmermann noted in an email that the game wasn't going to be televised anywhere, and momentous things tend to happen in games without TV. For instance, Shawn Green hit four home runs in a non-televised game a few years ago.
I said I wouldn't mind witnessing a momentous event, provided the event wasn't that my wife going into sudden labor during the game. Bob said it would be bad if we felt compelled to name the child after whoever was at bat at the time, especially since we're expecting a girl.
"Yes, we decided to name you Ken, Jr., but you weren't named after me, you were named after Ken Griffey, Jr. It's a long story."
* * *
I went home thinking that no momentous event had happened at all, just a bunch of little not-quites. Instead, it turned out to Milton Bradley's last appearance in an A's uniform. Hmm...how to react? With disappointment? With vengeance?
It's clearly quite an odd transaction, because when Bradley is healthy and playing, he was still one of their top three outfielders. Swisher (.909) and Buck (.873) each have a better OPS this year than Bradley (.819), but Swisher can play first base, and Bradley is better than Dan Johnson (.786). And Mark Kotsay (.738). And Shannon Stewart (.695). And Bobby Kielty (.477).
It's the Stewart comparison that really gets me, because they're both under contract just for this season. The only way that Shannon Stewart is more valuable than Milton Bradley is that he has stayed healthy this year. Stewart is nowhere near the hitter Bradley is, is limited only to left field on defense, and has the worst outfield throwing arm Oakland has seen since Ben Grieve. If it were me, I'd cut Stewart long before I cut Bradley. Same goes for Kielty, who ain't no great shakes in the field, either, and is somewhat literally half the switch-hitter Milton Bradley is.
All of which leads me to conclude that either one of two things are true: either Bradley did something to wear out his welcome, or Beane already has a trade lined up that couldn't quite get completed by Friday, when the A's needed the roster spot.
So I'm pretty bummed out that Bradley is gone. I liked the dude. I liked the way he got psyched up when he earned a base on balls. I liked his goofy goggles. I liked the way he attacked a fastball. I like his home run dance with Swisher. I liked the way he played the outfield. I'll miss him.
* * *
Here are some shots I took yesterday of what turned out to be Milton's Last Stand:
His last AB, where he struck out looking, and protested somewhat mildly: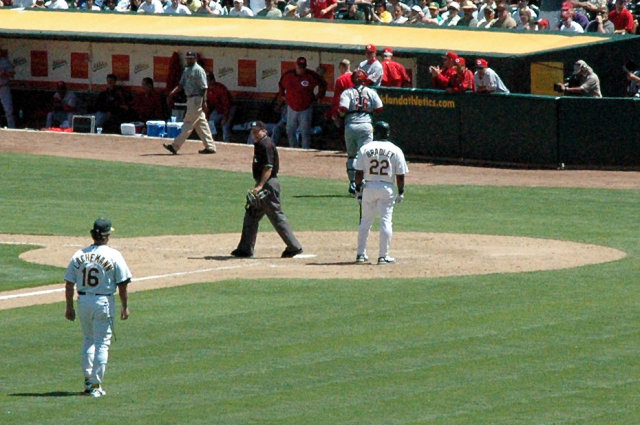 A half-inning later, his last putout in an Oakland uniform: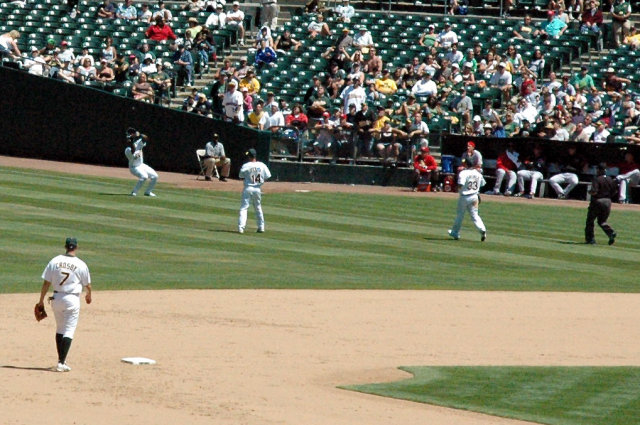 And, to conclude, a final high five: