When you think about it, a Rich Harden start is not unlike the A's very own version of a reality show -- Pitching Survivor, they could call it. Every time the once and probably not future ace of the A's staff takes the mound could be the last time you see him for a long time, every pitch the last one he throws before the inevitable disabling. Can The Amazing Race or Survivor match that for drama? You tell me what's more imbued with meaning -- a couple of people trying to make a connection to Quito? Someone trying to juggle coconuts under Jeff Probst's watchful eye? Or a guy whose arm might come flying off on his very next split-finger fastball? Line up to see the show, folks. Maybe Rich Harden lasts six innings, maybe three, or maybe he can't even go 60-feet-six-inches. It's all very dramatic.
At least there was some drama at the Oakland Coliseum Saturday. There certainly wasn't any in the game itself, which seemed a foregone conclusion the minute Adrian Beltre's third homer in two days cleared the left field fence. Harden's first start since April 15 lasted 66 pitches, none of them very inspiring or enough to make you think that the Victoria, B.C.-native was going to help lead one of Oakland's patented second-half charges. And indeed, after the game, what was likely apparent to anyone inside the stadium Saturday was confirmed Sunday by the A's: Harden's shoulder isn't feeling right and surgery becomes an ever more likely possibility.
No one knows what tomorrow may bring and all that, but this entire weekend had an air of depressing finality about it. The narrative of baseball is littered with stories of talent squandered or never realized due to some fatal character flaw or unlikely turn of events. The case of Rich Harden isn't either of those. Rather, it's the story of a guy who could throw beautifully and decisively when his body let him -- only his body wouldn't let him for very long. If unrealized potential is the stuff of tragedy, then what is potential that's not only realized but surpassed, only to be cut short by an arm that just can't withstand the strain of a 162-game season? Most of us come to terms with the gnawing suspicion that, while we're doing the best we can with the resources at our disposal, we're never going to be able to rise to the top of our given career path. Well, Rich Harden was able to get there, at least for a little bit, only his body wouldn't let him stay. If I think about it any more, I'm going to spend the rest of the week deeply depressed.
Perhaps the rest of the A's thought about all that a little too much -- how else to explain the lethargy of the just-completed homestand? The mandates of my day job that I destroy entire forests writing about the ins and outs of the iPhone have kept me from watching too much baseball in the past week or so. But the games I have watched, at least for a little bit, included:
• Last Monday's 11-7 loss to Toronto, a three-hour-seven-minute game that felt like it was contested over the course of six years. Forget the final score for a moment -- even if Oakland won, this game still would have been a miserable slog, albeit a miserable slog with an acceptable outcome. Every pitcher seemed to pause long enough to dash off a few chapters in the Proust essay they were doubtlessly composing between pitches; the innings seemed interminable. As a baseball game it was a hell of an advertisement for cricket.
• The Fourth of July game against Toronto, which was decided within seconds of me flipping on the TV to watch the first inning conga line of Blue Jays circling the bases.
• The aforementioned Saturday game, in which the admittedly good Felix Hernandez held the A's to two hits, though really, Keith Hernandez probably could have shut down Oakland's offense the way they were swinging the bat.
So you can understand, I hope, if I'm sounding a bit glum about the A's prospects after the All-Star Break. The offense hasn't done much with any consistency for the first 88 games, so it doesn't really seem very probable that they're going to start any time soon. And now the pitching -- so outstanding for most of the first half -- seems to be returning to earth.
My fear is not necessarily that the A's won't be playing meaningful baseball in September -- it was bound to happen one of these days -- but that folks both outside the A's front office and within will attribute the lackluster results of 2007 to an unfortunate series of injuries. The reality is that, with one or two exceptions, most of the injuries suffered by Oakland players were of the could-have-seen-that-coming nature. Yeah, the sheer volume might have been surprising, but it merely illustrated the folly of building your team around so many "Ifs."
Besides, focusing on the injuries distracts from the other problem with the A's, or at least what I see as the problem from my view in the cheap seats -- too many average to above-average guys, not enough game-breakers. The A's feel like a collection of fourth outfielders, back-of-the-rotation talent, interchangeable AAAA parts. There are exceptions, of course -- Dan Haren has stepped up as a frantline pitcher, setting aside a couple of recent blah starts, and Nick Swisher at least holds some promise of stardom. Jack Cust can occasionally strike fear into the heart of an opposing pitcher, at least until the clock inevitably strikes midnight.
But the vast majority of the 40-man roster? A lot of adequacy, not a lot of superlatives. Which isn't always a bad thing -- not every team can field a lineup of superstars from the top of the order on down. Coming up with enough solid-if-not-spectacular players helps fill in those holes and keeps a team in contention. But at the end of the day, you need a game-breaker or two. The A's used to have guys like that -- Frank Thomas most recently, Miguel Tejada before that -- but now they've got a surplus of one type of player. A roster full of adequate Major Leaguers -- Bobby Kotkendalvez, we'll call him. He gets on-based a fair amount and shows some pop every now and again and won't let you down too often with the glove. But come up with big hit? There's only so much you can expect Bobby Kotkendalvez to do.
These were my thoughts sitting in the second-deck at Saturday's game, watching Rich Harden wash out of a start and probably the season while the A's batters went through the motions against King Felix. They're admittedly grim and probably off-base, so let's try and end things on a positive note before getting into the game notes. I got my tickets for free, thanks to the generosity of a Boys and Girls Club of Oakland volunteer who wound up with more tickets for Saturday's game than attending kids -- since he turned down my offer of money in exchange for the tickets, I guess he'll just have to settle for a nice donation. And it was the A's BeerFest on Saturday, and when else are you going to be able to enjoy two beers at the Coliseum for $10?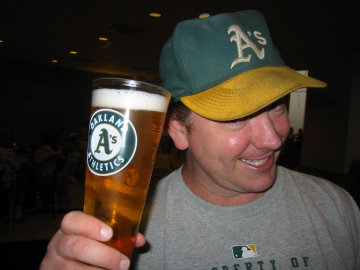 So let's drink to adequacity, and get on with the notes...
Game 87: Mariners 4, A's 0
Your Pitchers of Record: WP -- F. Hernandez (5-4) LP -- R. Harden (1-2)
Went Deep: Beltre (13)
Your Trumer Pils Star of the Game: It doesn't take much to stymie the A's these days, but let's acknowledge the King's eight-inning effort in which only one A's baserunner ever made it to scoring position. And, if the reports at 6-4-2 and Deadspin are to be believed, Hernandez owes it all to the Internets.
The Turning Point: Beltre's second-inning homer wouldn't have been quite the crushing blow had there not been runners on base ahead of him. So let's say that the turning point in this game was the five-pitch walk to Jose Guillen and the four-pitch free pass to Richie Sexson that not only put ducks on the proverbial pond but also signified that Rich Harden's comeback was to be nasty, brutish and short.
Why I Have a Hard Time Getting on Board the Jack Cust Train: It's the bottom of the sixth, and for the first time Saturday, Felix Hernandez is looking vulnerable. Shannon Stewart has legged out an infield hit, and Nick Swisher drew a walk after falling behind in the count 0-2. So up to the plate strides Jack Cust, the A's major offensive threat at the present time. Your pitch sequence:
Strike looking
Strike looking
Ball
Strike three swinging
And yeah, I realize that Jack Cust has his approach, and patience is what's allowed him to hit 15 homers and tally an OPS of .969. Nevertheless, this is the closest the A's came to making Hernandez squirm, and I feel like watching the first two pitches fly ball without even a swing let him and the Mariners off the hook just a little bit.
Still, I like that approach better than what Eric Chavez showed to lead off the seventh (strike looking/foul ball/strike three swinging on a lunge at a ball outside the strike zone). Speaking of Chavvy...
At Least Now He Doesn't Have to Ask Baseball had its 32nd Man balloting last week for the final spots on the respective All-Star teams. And every year when that happens, I think back to 2002 when Eric Chavez was among the five finalists for what was then the 30th spot on the roster.
Chavez adopted what was a decidedly unorthodox campaign for votes.
Not only does Eric Chavez not want to go to the All-Star Game, a little bit of him feels like he does not belong.

"That's one part of it," Chavez said before the A's game against the Minnesota Twins. "A lot goes into it. My back problems are one part, getting rest is a big part, but honestly, it's taken four years for me to feel comfortable in baseball, and to get into a comfort zone.

"And I like that comfort zone. I don't want to leave it right now. An All- Star game would add confusion and stress, and I don't need that right now."

Chavez is especially hard on himself, and at 24 years old, is still unimpressed by his own 20 home runs and 58 RBIs at the halfway point. In short, Chavez said, leave the hoopla to Barry, Sammy and Pedro -- Chavez needs to worry about himself, even though he admitted his agent phoned on him on Monday to say, in effect: Why are you talking like this?

"Baseball's been a struggle for me," he said. "Now I can finally come to the field and enjoy myself, and just thinking about going to the All-Star Game and sitting next to all those great players, and doing the media interviews, I wasn't looking forward to it. And I don't want to be anywhere I don't enjoy myself."
I remember being moderately troubled by that mindset back in 2002 but chalking it up to a not-terribly-confident player being overly modest. Now, with five years of hindsight, I kind of look at that sequence of quotes as an early warning sign that all of us -- Billy Beane in particular -- should have paid more attention to before making any rash personnel decisions.
Why We're Being Negative: You know, I'm pretty hard on Ray Fosse a lot of the time for his almost fanatical dedication to singing Jason Kendall's praises. So let's do something different for a change -- let's be hard on Glenn Kuiper, instead.
It was during one of the Toronto games -- I've blocked which one from my memory -- when Fosse was composing another one of his hagiographies of the A's starting catcher -- how the pitching staff owes much of its success to Jason Kendall, how his contributions to the team far outweigh his offensive contributions, how in the playoffs against Minnesota last year Kendall levitated down the right field line and used his guiding hand to make sure that Marco Scutaro's hit landed in fair territory. You probably didn't notice this because you are not much of a baseball expert.
"Baseball is such a game of statistics," said Kuiper, picking up the assertion that a catcher's game-calling prowess is greater than you might think. "And unfortunately for the catcher, there's not really a statistic that can back them up on that."
Perhaps, Glenn, the lack of such a statistic is because the catcher's role isn't as critical as you're making it out to be. Just a working theory of mine.
Anyhow, I'm hard at work on a statistic of my own. I hope to show a correlation between A's victories, the position of the tides, the relative strength of U.S. currency against the Thai baht, and the cryptic musings of Fenzywhig, a golden dragon whom only I can see. My early findings -- all that stuff plays as much a part in the A's success as how Jason Kendall calls a baseball game.
Dreaded Larry Davis Sighting: Rich Harden, you already know about. But Bobby Kielty's back off the DL and just in time for the fire sale, too.
Oh, and in other injury news, my podiatrist tells me I have a cracked bone in my foot, which is accounting for some of my crankiness as of late. I figure I'll be all right with a few days rest, but I hear rumors that Ken is about to DFA me in order to force a trade with Ducksnorts.
I'm Calling from a Sneaker Phone: I mention that iPhone business up above reluctantly in part because I am a modest man about what I do for a living, but mostly because for the past month or so, any time I poke my head up over at The Griddle, I am subject to a series of iPhone-related taunts (like this) from Mr. Bob Timmermann. Mr. Timmermann appears to believe that I have some sort of inside track on the iPhone, that prior to its release, Steve Jobs pulled up to my office in a giant limousine and personally handed me the phone.
This is a preposterous suggestion. We have functionaries to go through that hassle for us.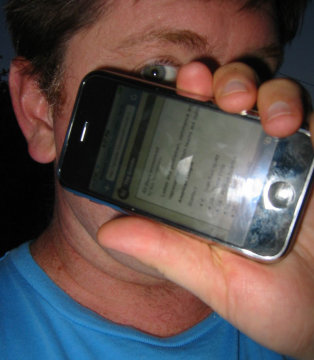 Anyhow, that's a photo of the iPhone being taken for a test drive. It's hard to see from the glare off the flash, but I'm using the built-in Web browser to visit my favorite site for Timmermann-delivered baseball news.