Though the A's managed to score more than three runs for the first time in a dozen games last night, they still lost. Oakland now carries a 44-50 record, six games below .500, 12.0 games back of the Angels and 11.0 games out of the wild card. It might be time to face the reality that this just might not be a playoff-caliber team. For the first time in a decade, the A's will be sellers at the trading deadline -- and they've already begun by unloading Jason Kendall on the unsuspecting Cubs.
Now, I'm as optimistic as the next guy when it comes to my team, but after taking a long, hard look at where Oakland stands, it's hard to imagine a scenario in which they can make up a dozen games. The offense is putrid (second to last in the league in runs scored), and shows no signs of the impending sea change needed to challenge in the AL West. Though the aformentioned streak of scoring three runs or less had been halted, a similar streak is still going strong. For the last 12 games, Oakland has scored four runs or less while garnering eight hits or fewer. That's one of the longest streaks of its kind since 1957, as far back as retrosheet data goes. Here are the other teams to score 4 or less while getting eight hits or fewer: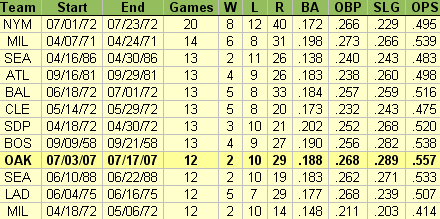 A pretty pathetic lot. The real story about those dozen teams is that none made the playoffs, and almost every one of them finished the season below the .500 mark.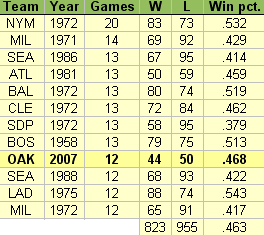 1972 was a bad year for offense, apparently, with five teams going on epic slumps that season. Even when subjected to the pythagorean method of qualifying their win-loss records, there's not much improvement. The composite winning percentage improves from .463 to .466 -- an insignificant amount.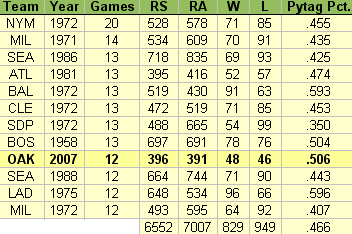 If the A's pitching holds up and the offense wakes up out of its funk, there is still hope that Oakland could finish above the .500 mark, but a spot in the playoffs just may not be in the A's future for this season. I hope I'm wrong, and we see Oakland go on a monumental tear to make a run at the post-season, but it's hard to ignore the flood of evidence that points to the contrary. This just isn't a very good team right now.