I went to the A's-Royals game yesterday. Unlike the other game I went to this season against a team from Missouri, which had the fingerprints of the visiting team's manager all over it, I didn't find any evidence of Royals manager Buddy Bell at all. I was a lovely day, after all, he's retiring soon, the Royals had already won the series, so why make any fuss? He probably scribbled his game plan on a napkin at breakfast, set the team on autopilot, laid back and took a nice afternoon siesta.
That's the only way I can think of to explain how the Royals essentially gave the A's a free victory yesterday. In the top of the sixth, with the A's up 2-0, the speedy Joey Gathright led off the inning with a single. Jason LaRue, he of the .147/.229/.287 batting line, was due up next, with the top of the order to follow. Good chance for a big inning, so you'd expect a pinch hitter, right?
Nope. LaRue hits. Not only that, but he bunts. When down by two. With a guy on first who could probably get to second base on his own if that's what you think you really need. A total waste of an at-bat, of an out, and, as it turned out, of an inning.
Then, in the bottom of the sixth, Kyle Davies, who had thrown 99 pitches, was replaced on the mound by John Bale. The A's were not fooled by Bale for a second, and smacked him around for two consecutive innings, scoring three in the sixth and another in the seventh. Not once in those two innings did the Royals get anybody up in the bullpen. Apparently, the plan was for Bale to pitch two innings, no matter how much he stunk, and if it cost the Royals a chance to win the game, who cares?
At least the A's were trying to win. But even with the A's, a feeling of resignation was in the air, as I looked out on the field and saw a lineup with only three players who played on opening day. It felt like I was rooting for an expansion team, instead of a team that made it to the LCS just last season. Who are these guys? Is that Dave Telgheder I saw out there? Patrick Lennon? Damon Mashore?
I took the usual assortment of photos, but the game just didn't seem worthy of photos. But my seven-year-old daughter said she wanted her picture on this web site, so I'll put this one up: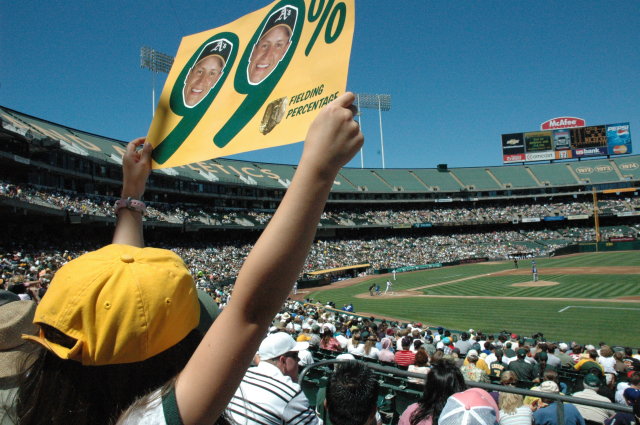 Last year, we were rooting hard for the glory of the A's winning the World Series. Now we're reduced to hoping against hope (and Placido Polanco--not him again!!!) that Mark Ellis finally wins a gold glove. It's not quite the same thing.