The Oakland Athletics Light Opera Company concluded a creatively uneven season Sunday when it joined forces with the Texas Rangers Repertory Players Sunday to stage a joint production of West Side Story.
While Nick Swisher made a bold impression early on as Tony, one half of the star-crossed lovers in the Arthur Laurents-Leonard Bernstein-Stephen Sondheim musical, his stage presence waned notably as the show wore on. Indeed, after the pivotal knife fight with the villainous Bernardo (Vincente Padilla), it was as if Swisher had been ordered off the stage, so little of an impact did he have in the latter stages of the second act.
The staging was not without its highlights, however. The footwork of the ensemble cast as the Sharks was impeccable during a particularly energetic rendition of "America". And Kurt Suzuki was a revelation in the part of Riff, despite the complaints of noted theatre critical Raymond Fosse who groused that Jason Kendall was more believable in the role. Nevertheless, Suzuki, teaming up with Swisher put a fresh spin on the classic song "Cool" that had audiences tapping their toes long after the curtain fell.
Not every casting decision was as inspired, particularly the odd choice for the part of Maria. Art Howe's wooden line readings ground many of the scenes to a near-halt, while his sonorous baritone seemed out of place, particularly on "I Feel Pretty." In fairness, however, his mannered reading of Sondheim's lyrics did drive home the point that, whatever else his failing as Maria, Howe did, in fact, feel pretty and witty and wise.
Ultimately, the performance was undone during the final number when a stirring reprise of "Somewhere" was interrupted by a Michael Young grand slam.
West Side Story concludes the A's Light Opera Company's 2007 summer season, which featured performances of Chicago, a dramatic retelling of the A's three-game sweep of the White Sox in August set to the music of Kander and Ebb; A Chorus Line (Of Quadruple-A Players), the Pulitzer Prize-winning musical in which borderline major leaguers compete for jobs in the A's starting line-up (Jack Cust's performance of "What I Did For Love" brought down the house); and Jesus Christ Superstar, a one-man show in which Billy Beane talks about his favorite roster maneuvers.
Game 152: Rangers 11, A's 9
Your Pitchers of Record: WP -- J. Rheinecker (3-2) LP -- A. Brown (3-3) S -- J. Benoit (5)
Went Deep: Ellis (18), Young (8)
Your Delicious Red Punch Star of the Game: Michael Young, tormentor of Athletics, destroyer of dreams, for his game-winning granny.
The Turning Point: I realize that the A's primary mission right now is not winning ballgames so much as it is determining who should have a job in 2008, and, in view of that approach, it makes some sort of sense to leave a clearly struggling Andrew Brown in the game to try and work his way out of the mess he created. But a lifetime of watching baseball has taught me this: When you walk Brad Wilkerson (.236/.319/.481) on four straight pitches to load up the bases for Michael Young, the next thing that happens to you is likely to be a bad one.
Ron Washington Is Above Your Petty Suspicions: Ken Korach, Ray Fosse, and Vince Cotreneo were quick to dismiss any suggestion that Padilla was throwing at Swisher on orders from former A's third-base coach Ron Washington, and Mark Ellis seconded that notion in today's Chronicle:
"I know it's not coming from the manager. I know that for a fact. Wash has too much respect for (Swisher) and too much respect for the game."
Not that it really matters, but why not assume Wash was in it? Swisher was swinging the bat particularly well against the Rangers -- 5 for 10 in this series with three homers, 5 for 11 the previous weekend with another two dingers -- and this was not exactly the first Ranger pitcher to throw at him this series.
"You've got to pitch inside," Washington tells the Chronicle's John Shea. Sure, you do. Three times in as many days. To the same guy. Not suspicious at all.
While We Are Picking on A's Broadcasters: This one's from Monday's game, being contested as I type this, and not from the Rangers game, but at my current pace, I probably won't post again at Catfish Stew until January 2008, so I might as well get my lick in now.
Glenn Kuiper and Fosse are discussing the Mariners' declining fortunes -- five wins in their last 22 games by my count -- noting the team's middling record with John McLaren at the helm (33-37, after starting the season 45-33) and speculating on whether or not the team will retain his services in light of this turn of events.
"You hope," says Fosse, who I am loosely paraphrasing here, as I did not write down the exact pearl of wisdom, "that he's not judged on what the team has done since he took over."
What would you propose he be evaluated on then, Ray? The team's record under Maury Wills? Letters of recommendation written by McLaren's old Scoutmaster and a local clergyman of solid reputation? The firmness of his jaw? The feel of his haunches?
I'm asking this sincerely, Ray. I really want to know what criteria you, Ray Fosse, use to evaluate how people perform. Because I find your conclusions fascinating and wish to follow the twists and turns of your wine-dark mind.
How Sausage Gets Made: So that bit above about West Side Story... the original idea there was to intersperse photos of the event with the write-up, thus creating a visual comedic package. And I would have gotten away with it, too, if it wasn't for those dratted copyrights.
So what I wound up doing instead was what you read above, which to say I embedded links in the text and hoped like hell you would click on the appropriate link and chuckle to yourself "Ah, yes, Kurt Suzuki is holding back Nick Swisher like they're performing 'Cool' in West Side Story. Now I see what he's going on about." I'm not sure it was entirely a success.
Still, it was better than my other idea, which was to run artist's renderings of the Swisher-Padilla brawl.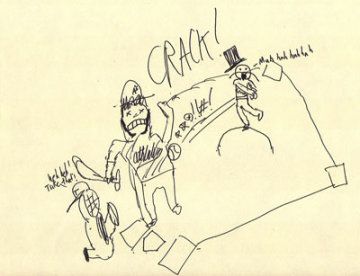 This, of course, is the fateful pitch. The fact that Vincente Padilla has taken the mound, eschewing his Rangers cap in favor of a black top hat and a Sidney Whiplash-esque mustache perhaps signals his evil intent.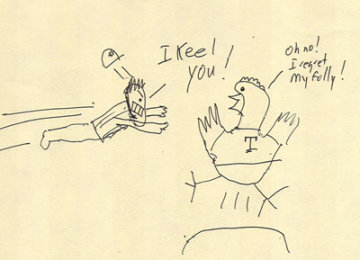 And the melee begins. Apparently, in all the commotion, Padilla has transmogrified into some sort of chicken or game hen or something.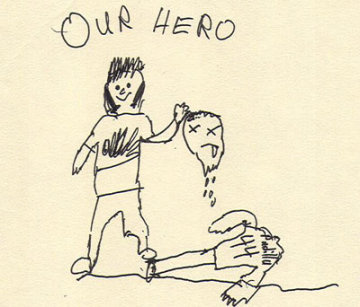 Finally, Swisher emerges from the scuffle, apparently having yanked Padilla's head free from the rest of his body. Not pictured: Swisher eating Padilla's heart to gain his courage and Chuck Meriwether ejecting both Swisher and Headless Vincente Padilla from the ballgame.
On a somewhat unrelated note, did you know that I have never received any formal instruction in drawing? Not one minute!