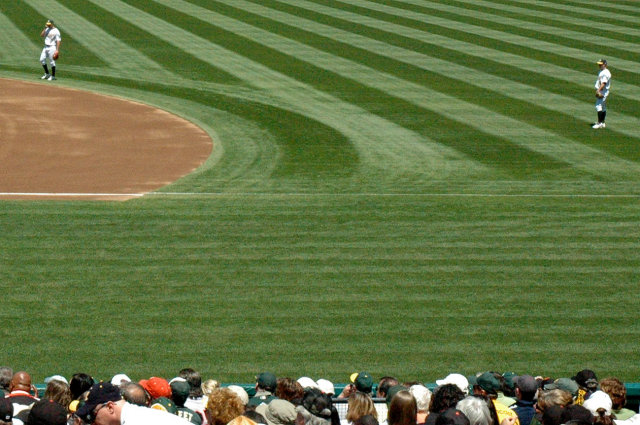 If you're an A's fan who hates Barry Bonds, don't mail all your A's gear to Billy Beane just yet. It's quite possible that all this chatter about whether or not Barry Bonds will join the Oakland Athletics is really just a minor subplot in the truly big story going on: whether or not Max Scherzer will join the Oakland Athletics.
If Billy Beane actually intends to blow up the current A's roster and rebuild for the future, the explosion begins by detonating Dan Haren. In order for Billy Beane to push the button on a Haren trade, he's going to want to be sure that he gets something in return that is likely to provide Haren-like value when the A's are ready to contend again in 2009 or 2010. The Arizona Diamondbacks are apparently the team closest to being able to pull off a trade for Haren, but the Diamondbacks' best pitching prospects are not particularly close to the major leagues.
The Diamondbacks' Top 10 Prospect list on Baseball America has five pitchers on it, but four of the five just launched their pro careers in 2007. The only pitcher on the list who pitched professionally in 2006 was Brett Anderson, and he has only advanced as far as the High-A California League, where he pitched well for a 19-year-old, but was not unhittable, either. A lot can go wrong with a 19-year-old arm between A-ball and the major leagues. If I'm Beane, I like Anderson, but I need to get one sure-fire major-league pitcher in return, as well.
This brings us to the aforementioned Scherzer, who completely dominated the California League in his debut, and was quickly promoted to AA. Scherzer's success caused MinorLeagueBaseball.com to name him the 35th-best prospect in baseball. The only question about Scherzer making the majors is whether he can develop a third pitch to be a starter, or if he's a closer in waiting.
If I'm Beane, there's no way this deal happens without Scherzer, but the Diamondbacks are naturally reluctant. Initial reports out of the Winter Meetings put Scherzer on the Diamondbacks' list of "untouchable" young players, along with Justin Upton, Chris Young, Stephen Drew and Mark Reynolds. So, as rumor had it, among the Diamondbacks six best young near-major-league-ready players, only Carlos Gonzalez (MinorLeagueBaseball.com's #23 prospect) was available in exchange for Haren.
Not good enough; no Scherzer, no deal. Beane left the winter meetings in Nashville without trading Haren, and started making noises like he planned to keep the roster intact, and go for it in 2008. The fact that the Angels didn't end up with Miguel Cabrera helps make that decision seem more plausible. Next thing you know, quotes like this show up in the press:
"There is no doubt in my mind that Oakland will sign Bonds," one major-league executive said Thursday as the winter meetings wound down. "I'd be shocked if it didn't happen."
Well, that set off quite a storm of discussion, didn't it? If you're the Diamondbacks or some other team that had Dan Haren as Plan A or Plan B, and all over ESPN they're discussing Barry Bonds joining the A's, you're thinking, hmm...maybe I won't be getting Dan Haren after all. Because if the A's trade Dan Haren and rebuild for 2010, there's certainly no reason for the A's to put up with the headaches that come with Barry Bonds.
The recipe, in summary: drop a large spoonful of Barry Bonds rumors into your "we-are-contenders" broth, stir well, and let simmer for two days. Then get a taste of this:
Arizona has been the most aggressive suitor for Haren, with a package of up to five prospects, including outfielder Carlos Gonzalez, pitcher Brett Anderson and, as a possible player to be named, pitcher Max Scherzer, the 11th pick of the 2006 draft. Were the A's to conclude a deal with the Diamondbacks, it could happen early in the week.
Bon appetit!