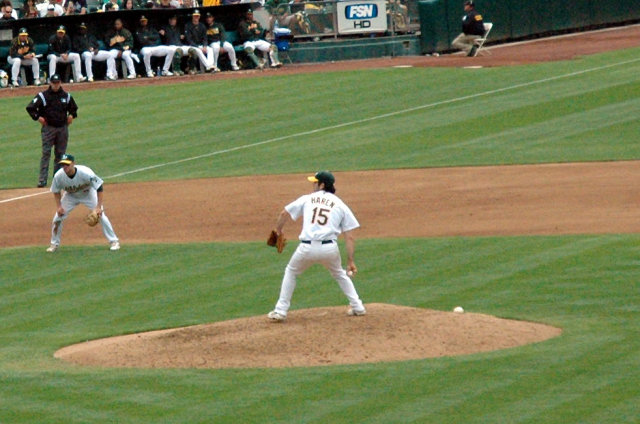 I've been dreaming of a true love's kiss...I recently took my daughter to see Enchanted, a clever, well-executed story of when fairy tales meet the real world. I mention this because...well, I don't really know why; I plopped this photo into the editor, and just started typing without thinking, and that's what came out. I guess the song was stuck in my head. But I'll leave it in, because I can totally make a metaphor out of this. You see, the land where you could find a sucker GM to take your veteran and get back multiple players who are both better and cheaper than they guy you gave up appears to now be a pure fantasy. Even Ned Coletti and Brian Sabean, who have a long history of trading away prospect gold for mediocre washed-up garbage, aren't falling for that trick anymore, for goodness sakes. C'mon Ned...just one little bite of this apple and all your lineup holes will be filled...Nope, not happening. Billy Beane's fairy land is gone, and he's been shoved into the real world, where GMs now seem to understand the value of young players, where even a sure Hall-of-Famer like Johan Santana can seemingly barely net a return of one sure-fire propect, and any less-than-Santanas can only return prospects with less-than-certainties. Better get used to the fact that it ain't only the witches that have warts anymore--the princesses do, too. (And if you want to use that last sentence as a metaphor to write an essay about the steroid mess, Be My Guest.)
All six players the A's got in return for Dan Haren have both beauty and warts, and that makes the possible returns of this trade range from fairy tale to horror story. The most likely outcome is a mix of success and failure, where maybe two of the six reach their potential, two of them flame out, and two of them fall somewhere in-between. Let's look at all six players, and compare them to players we know about.
Carlos Gonzalez:
Fairy Tale: Vladimir Guerrero
Real World: Jose Guillen
Horror Story: Ruben Rivera
Like the three players above, Gonzalez is an extremely talented athlete, possessing a cannon arm and a nice, powerful stroke that suffers from a lack of discipline with the strike zone. He also has a bit of an enigmatic personality, with complaints that he doesn't work as hard as he should. Guerrero ended up putting his package into superstardom, Guillen became a solid major leaguer with some issues, while Rivera got his head screwed on backwards and his career completely fell apart. Note of caution for Billy Beane: Guillen's career probably suffered greatly from being rushed to the major leagues at age 21 by the Pirates, when he still could have used some more seasoning in the minors.
Brett Anderson:
Fairy Tale: Barry Zito
Real World: Curt Young
Horror Story: Tim Conroy
Like Zito, Anderson is not a particularly gifted athlete, and doesn't have much more than an average fastball, if that. But both he and Zito were extremely well-coached as youngsters (Anderson's father is the head baseball coach at Oklahoma State), and combine outstanding off-speed pitches with a solid understanding of the art of pitching. But as Zito showed last year, the line between a Cy Young winner and a league-average pitcher is quite thin when you don't have overpowering stuff. A career resembling that of the A's current pitching coach is more of a realistic expectation. Conroy threw harder than Zito, Young or Anderson, but we'll pick him as an example of a hyped-up A's lefty who failed to make much impact.
Dana Eveland:
Fairy Tale: David Wells
Real World: Mark Redman
Horror Story: Tim Birtsas
I suppose I could have picked C.C. Sabathia instead of Wells, but this fairy tale is much more entertaining if you try to visualize David Wells in tights, acting as the Prince Charming of this Land of Large Lefties. Plus Sabathia stuck in the majors at age 20, while Wells didn't get there until age 24, the same age Eveland will be in 2008. Redman is one of the least popular names in A's history, and has been a below-average pitcher in his career as a whole, but he put his act together long enough to rattle off a five-year stretch of league-average pitching, which would be useful to the A's if it comes early enough in his career. Birtsas is in the horror category both because he was a humongous lefty who never really fulfilled his potential, and because he was on the wrong end of two less-than-brilliant trades by the A's. He came over to the A's with Jose Rijo when Rickey Henderson was sent to the Yankees, and he followed Rijo to the Reds in a later trade for Dave Parker. Although Parker helped the A's win the World Series in 1989, Rijo dominated the A's in the World Series the following year.
Aaron Cunningham:
Fairy Tale: J.D. Drew
Real World: Matt Murton
Horror Story: Billy McMillon
Cunningham seems certain to be a major leaguer of some sort, but what kind? He is a card-carrying member of the League of Typically Underappreciated Outfielders Who Do Everything Well, But Nothing Great, where J.D. Drew is king. In the A's organization, you can easily see how he could end up with a fate like Matt Murton, where he gets stuck behind some more established names (Swisher, Cust, Buck, Gonzalez) and never really gets trusted with a full-time opportunity to show what he can do over multiple seasons. Or worse, a fate like McMillon's, where he rides the bench so long his skills rot entirely, and a career is lost for being in the wrong place at the wrong time.
Chris Carter:
Fairy Tale: Richie Sexson
Real World: Tuffy Rhodes
Horror Story: Rob Nelson
From what I hear about Chris Carter, he sounds like the perfect candidate for the Japanese Leagues: a big power hitter with plenty of holes in his swing for major league pitchers to exploit, so he ends up like Tuffy Rhodes in Japan, where they don't care about a gaijin's holes as long as he keeps hitting home runs. Sexson was able to overcome his holes and put up some big numbers until last year, but now he's playing like he wants to go to Japan, too. Maybe that's why he signed with the Japanese-owned Seattle Mariners in the first place. Rob Nelson is, in a nutshell, not Mark McGwire.
Greg Smith:
Fairy Tale: Kirk Rueter
Real World: Kirk Saarloos
Horror Story: Kirk Dressendorfer
Like the other Kirks above, Greg "Kirk" Smith (for lack of a better nickname) will probably not have a career as long and glorious as James T. Of the three comps, Dressendorfer probably had the most talent, but he failed his Kobayashi Maru test miserably, and only ended up pitching a total of seven major league games. Saarloos and Rueter, on the other hand, both managed to make a decent career out of their slop-throwing repertoires. Rueter managed to turn his slop into a long career of league-average pitching, and that's probably Smith's ceiling, as well.
And did they all live happily ever after? Keep turning the pages...