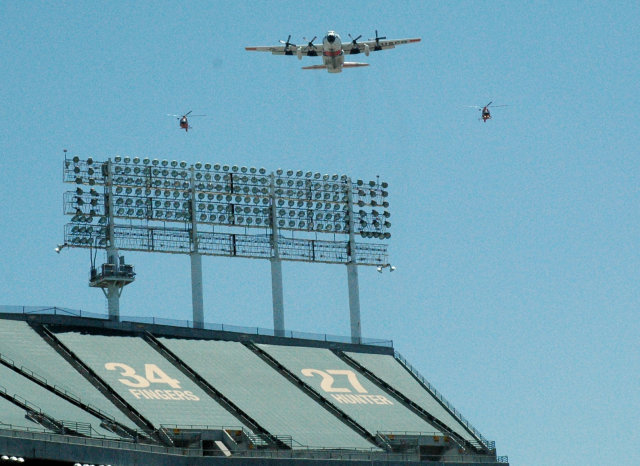 David O'Brien of the Atlanta Journal-Constitution says he has spoken with Mark Kotsay, who was told by Billy Beane that the A's are working on a deal that would send Kotsay to the Braves for a mid-level prospect. The A's would probably pay at least $5M of the $8M owed to Kotsay this year. If the Braves find Kotsay's MRI acceptable, the deal could be announced Monday.
This deal is probably going down now because the Braves other good CF option, free agent Mike Cameron, just signed with the Brewers. It's a good fit for both teams: the Braves need a stopgap centerfielder until Jordan Schafer is ready for the big leagues, and the A's need minor league depth.
I feel about this news exactly as I felt about the Jason Kendall trade: to get anything of value for Kotsay at this point, including salary relief, is a great move. A healthy Kotsay was one of my favorite A's players ever: I loved his deadly accurate throws, and I liked watching his simple approach at the plate: swing at anything that's a strike, don't swing at anything that's a ball. But it's time to move on. Kotsay, in the last year of his contract on a rebuilding team, most likely isn't going to help the A's win any pennants, even if he stays completely healthy in 2008. If the deal goes through, I'll be happy. If the A's get back anybody who's a top 20 Braves prospect, I'll be giddy.
Update: The A's have signed free agent outfielder Emil Brown to a one-year deal to play the Bobby Kielty role of right-handed platoon bat. Danny Putnam was designated for assignment to make room for Brown on the 40-man roster. Which suggests something else: the player the A's will get back for Kotsay is probably on the Braves 40-man roster. Because if the A's were getting a player back for Kotsay who wasn't on the 40-man roster, the A's would probably just wait to finalize the Brown deal after the Kotsay trade goes through, give Kotsay's roster spot to Brown, and not have to risk losing Putnam on waivers.
The only players who are both on the 40-man roster and on John Sickels' top 20 Braves prospect list are #3 Brandon Jones, #5 Joey Devine, and #9 Jair Jurjjens. Any of those sound too good to be true, so it's probably not a top-20 prospect coming back.
Update 2: ESPN confirms that the A's will get Joey Devine for Kotsay. The A's are eating all but $2M of Kotsay's salary. That's great for the A's; they're shedding salaries commitments left and right, and have budget room to absorb some salary to get some talent back. Devine, a reliever, is a former first round pick who has huge strikeout rates, but also high walk rates, too. He showed some signs of improving his control in 2007. The A's want upside these days, and Devine certainly has that. His walk rates may prevent him from realizing his full potential, but even if he flops, this is a great deal for the A's.