When in Tucson, do as the Tucsonians.
I felt left out that I had never been to a Dairy Queen when Ken Macha treated the A's to ice cream after a game in Tucson earlier in March.
So naturally, when I went to Tucson last week on vacation, I had to visit a Dairy Queen.
So I packed up the family, and we headed downtown to visit the oldest Dairy Queen in Tucson.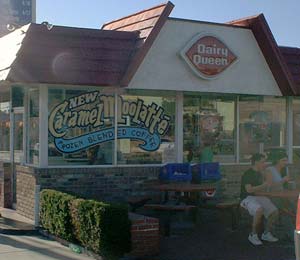 This particular Dairy Queen opened in 1952, and it didn't look like it had been remodeled at all since then. It was tiny; there was no indoor seating, and enough room in the building for maybe ten people to stand and wait for their order. Obviously, the drive-thru is the thing.
The wife and kids ordered chocolate-dipped vanilla cones, but I had to try the Blizzard. I was looking for the $7 one that Nick Swisher joked about ordering, but the most expensive one cost $3.55.
I still didn't really know what a Blizzard was, and there were a gazillion flavors to choose from. I had no idea what to pick, but I like cookies & cream, so I decided to go with a small Oreo Blizzard, and see what I got.
Then it was time to go outside and take my first scoopful of Dairy Queen ice cream: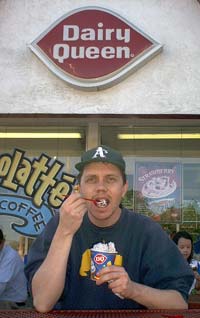 The Blizzard, I discovered, is like a milk shake without the milk. They stir the ice cream around with a mixing machine until it's soft and frothy, but it's not as liquidy as a shake.
The texture was nice, and it tasted pretty good, but I'm glad I just ordered a small one. That was plenty. I think the $3.55 one would have made me sick, and a $7 one...well I can't even imagine that. If Swisher had a $7 Blizzard, it's no wonder he had a lousy spring training. Eating one that size would probably leave you bloated for weeks.
So now I know what I've been missing. I can say I've done the Dairy Queen. What's next?